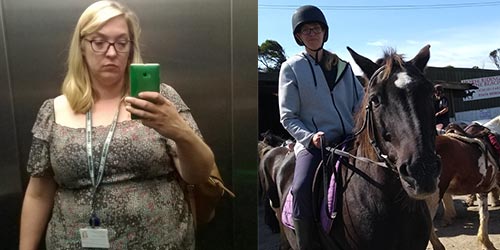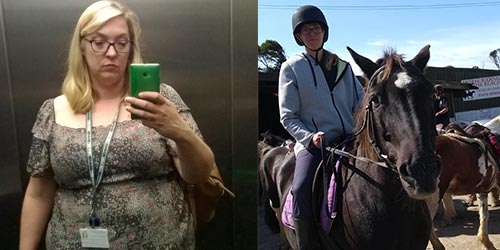 Karen, from Bristol, had been struggling with chronic lower back pain, depression, anxiety and borderline sleep apnoea as a result of being overweight when she decided to attend a Weight loss open evening.
Karen explains "I came to an open evening to find out more information about the options available to me. The consultant, Mr Alan Osborne made me feel comfortable and didn't make me feel ashamed, unlike GPs had previously. We discussed which type of bariatric surgery he would recommend for me, the risks involved and what the benefits would be. I was made to feel normal and not embarrassed.
I attended another open evening with my husband so that we could ask more questions and to talk about the procedure. I didn't feel pressured and was allowed to make a fully informed decision which I didn't reach for another few months.
Up until just before my operation, I was keen to have a gastric sleeve fitted, however Mr Osborne felt that this would not be the right procedure for me as I had been suffering with acid reflux and that the bypass would be better suited to me.
Prior to my operation I also met with Dietitian, Dafydd Wilson-Evans who advised me on nutrition both pre and post-surgery. We talked about why I wanted to lose weight, and for me it was to be fit and healthy by the time I was 40, to be able to run for 30 minutes, to buy clothes in a 'normal' high street shop.
The next week I had an appointment for the barium swallow, which showed that I had a hernia, so my decision was made and I would be having a Gastric Bypass. I confirmed the surgery date and would be having this procedure in November 2016.
The operation ran smoothly and I stayed at Spire Bristol for 3 days whilst I recovered. During this time I received 1-2-1 nursing care and Mr Osborne came to check on me several times. He informed me that he was very happy with how the surgery had gone and that I should recover fairly quickly. Mr Osborne also said I should try to move around when I felt ready to.
Three days after my surgery, I went home and started on stage 2 of my post-operative diet, which consisted of smooth liquids, and began my new life. When I left Spire Bristol I felt prepared to be at home and knew I could call if anything was at all wrong.
I stuck to what was recommended by Dafydd within the postoperative nutrition advice and ensured that I took my medication as recommended. Within 5 days after the surgery I was no longer experiencing any pain.
Six weeks after my surgery I returned to Spire Bristol for a check-up with Mr Osborne and Dafydd. They were both really pleased with my progress and we began to start discussing my goals going forward. I knew I wanted to start exercising and both Mr Osborne and Dafydd agreed that I had recovered enough to be able to start.
I told Mr Osborne that I wanted to be able to run 5k and raise money for charity which he felt was a very manageable goal and helped me to find a charity event.  He found the 5k Colour Run which was in October 2017. It gave me 11 months to reach the goal, time to start running and keep it up until I can run 5k.
The next day I joined the gym and went each morning.  I then found a 'Couch to 5K' with an all women's' running club called the Sole Sisters which I joined in January 2017. From this point, I started running 3 times a week. In May 2017, just 4 months after I started running, I ran the Bristol 10k. Since then I have run the Bristol Half Marathon in September 2017, Newport Marathon in April 2018, Ultra Marathon in July 2018, where I raised over £1,600 for charity, and London Marathon in April 2019.
Before my gastric bypass surgery in October 2016, I weighed 17 stone 5 Lbs size which is a size 22/24. My lowest weight since then has been 10 stone 1lb in December 2017 and my current weight is 10 stone 5lb and I wear a size 10/12. I promised myself that I would only weigh myself and take my measurements once a month to keep an eye on my weight, which is something I still do.
I no longer suffer from constant burning acid in my throat, I don't snore anymore or have headaches and the only time I get back pain is when I run too far! I feel so much more confident and healthier. I even run up hills for fun and I'm so much fitter, both physically and mentally.
Karen concludes "Having gastric bypass surgery was the best decision I have ever made. Spire Bristol Hospital took excellent care of me and my family. The staff were extremely caring and competent and I received amazing service and great aftercare. Thank you for my new life."
If like Karen, you would like to attend a free mini consultation for weight loss treatments, please take a look at our upcoming events for further information and dates. Please note that these free mini consultations are currently held on Zoom due to lockdown restrictions.