Daniel enjoys life following a diagnosis of multiple food allergies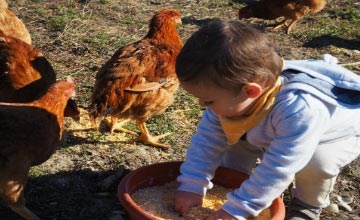 Allergies are the body's adverse reaction to substances in the environment or foods that you eat. They can lead to conditions like hay fever, asthma and eczema. This can be particularly worrying when it happens to your child. Spire Nottingham Hospital provides a full range of paediatric services including private consultations from birth onwards and surgery from 3 years.
Delightful sixteen month old Daniel developed eczema on his face at 4 weeks old. This started his parents on a mission to find out what was causing his skin reaction. At 4 months old Daniel was diagnosed with multiple food allergies including sensitivity to nuts, bananas, hens' egg, chickpeas, garden peas and lentils. Not to be confused with 'food intolerances', allergies produce an immune system response which can be severe and sometimes life threatening. This can be very worrying for parents, therefore finding appropriate help and support is vital.
Daniel's condition was carefully managed allowing him to start nursery, but then Daniel developed unexplained swelling of his face and upper lip and his mother understandably wanted him to be seen by an expert quickly. After looking at the Spire Nottingham Hospital website, she made an appointment with Dr Dinkar Bakshi, Lead Consultant Paediatrician, the following day.
From the start, the family felt they were given all the time they needed to talk to Dr Bakshi about their son's symptoms and how to manage them on a day to day basis. Dr Bakshi spent time, carefully showing Daniel's mother Vanessa how to use an adrenaline auto-injector device, which is used to provide emergency treatment to those at risk of anaphylaxis (a life threatening allergic reaction), by delivering a measured dose of adrenaline. Dr Bakshi also performed extensive skin prick testing on Daniel for a range of allergies. An individualised allergy management plan was prepared for the management of allergic reactions due to inadvertent exposure to food allergens in future.
Aside from the thorough and prompt medical investigations carried out at Spire Nottingham Hospital, the family have been really impressed with the quality of care and understanding they have experienced at Spire, during a difficult and worrying time that impacts the whole family and restricts some normal activities such as eating out. Daniel's mother said "From the beginning we felt that Dr Bakshi put Daniel's welfare and happiness first and foremost, we felt very welcome when we visited the hospital; with the reception staff remembering Daniel's name and the children's nurses playing with him when we arrived".
Daniel is growing up fast and, according to his Mum, "Is a very opinionated and happy child. He loves animals and running around after his two cats. His other favourite animals are cows, sheep and dogs. He is not scared of anything. He started walking when he was 9 months and now he runs everywhere, very rarely just walks. Daniel chats a lot, even during his sleep!"
Daniel continues under Dr Bakshi's care. The family are returning for the results of a special blood test to find out which allergies he will grow out of and those that are likely to remain. Spire Nottingham Hospital will be here to support the family when they need it, for example when explaining allergies to Daniel when he is older, so that he understands how to look after himself in the future.
Dr Bakshi is the lead paediatrician at Spire Nottingham Hospital, managing all acute and chronic children's problems. He is one of few doctors in the UK who have been formally trained in allergy at Imperial College London, with many publications in reputed medical journals.