Spire Healthcare wins top healthcare industry award
Spire Healthcare has been named as Best Healthcare Provider Partnership with the NHS at this year's prestigious HSJ Partnership Awards, recognising its hard-work and dedication to healthcare in what has been an unprecedented 15-months. Following a comprehensive judging process, Spire Healthcare was handed the prestigious accolade ahead of a highly competitive shortlist.  
Held on Tuesday 29 June, the long-awaited evening was the first in-person event for a few lucky attendees from both the NHS and private sector as well as figures from non-clinical backgrounds. The HSJ Partnership Awards took place at the Evolution London where the evening celebrated the very best achievements and innovations in the healthcare sector today across a total of 17 categories.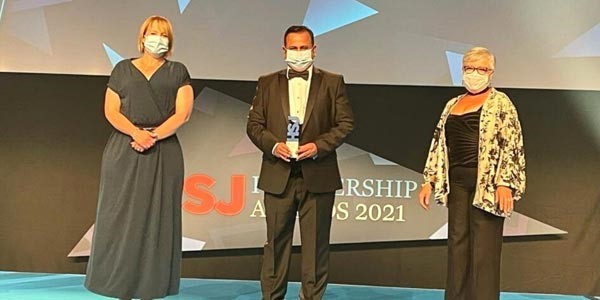 Spire Healthcare winning HSJ Award 2021
Spire Healthcare was recognised for its support for the NHS in responding to the pandemic. Between March 2020 and March 2021, it put its services, colleagues, facilities and equipment at the disposal of the NHS, and cared for over 260,000 NHS patients who would otherwise have seen their treatment or diagnosis delayed or cancelled. Many of these were people who had cancer, cardiac and other critical conditions.
The award recognised Spire Healthcare's ambition, visionary spirit and the demonstrable positive impact that the care it delivered had on patients across the UK.
John Forrest, Chief Operating Officer for Spire Healthcare, said: "We are absolutely delighted to have been named as the Winners in the Best Healthcare Provider Partnership category. It means a great deal to all our colleagues to be recognised in this way for the care we provided to our patients during the pandemic. Whilst being singled out as winners from a group of such remarkable nominees is hugely gratifying, most importantly we're proud to be part of a sector bound by a commitment to improve healthcare for all. This award will provide a tremendous boost to the entire team at Spire and I am sure it will bolster our efforts to develop and continually improve our services."
HSJ editor Alastair McLellan, who hosted the Awards ceremony, comments: "Congratulations to Spire Healthcare on winning the Best Healthcare Provider Partnership with the NHS at this year's HSJ Partnership Awards. Following on from what has been a most challenging time across the entire healthcare industry, it was incredible to be involved in celebrating projects of such high calibre.
"This year's entrants were of such a great standard, it posed a very difficult task to our experienced judging panel, who were not only impressed by the wide range of applicants who demonstrated real evidence of cost savings and efficiencies, but also the improvements to patient care.
"We know that Spire Healthcare is not alone in fostering a culture of collaboration and we hope this award win will be a source of inspiration for like-minded teams across the country. As we look towards our 5th anniversary year in 2022, we're proud of the legacy we've created and are delighted that the HSJ Partnership Awards continue to draw attention to the hard work and behind-the-scenes teamwork in healthcare. Congratulations again to Spire Healthcare and welcome to the HSJ Partnership Awards alumni!"    
View the full list of winners for the HSJ Partnership Awards 2021