Spire Healthcare riders complete marathon Yorkshire cycle ride for Ukraine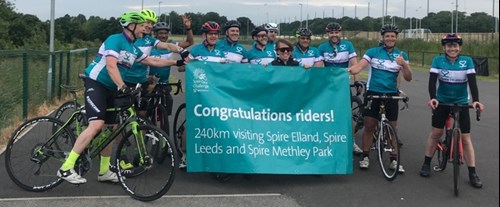 21 cyclists from Spire Healthcare, the leading independent healthcare company, have taken part in a 240km cycle ride around Yorkshire to raise funds for the British Red Cross Ukraine Appeal.
The ride started at 6am on Friday 24 June and took in three of Spire's hospitals, in Leeds, Elland and Methley, as well as landmarks such as Headingley, where England's cricketers were playing the Test Match against New Zealand. After over 12 hours in the saddle, the cyclists completed their ride at the cycle track at the Brownlee centre in Leeds. The ride was led by CEO Justin Ash.
The Spire riders were joined by Jenny Graham, who holds the world record for being the fastest woman to cycle around the world unsupported.
Alongside the 240km ride, 30 cyclists from across the company took part in laps of the 1 mile track at the Brownlee Centre, throughout the day.
The rides were part of Spire's company-wide charity fortnight, in which all of its 39 hospitals and non-clinical sites across the UK have been taking part in fundraising activities, including bake sales, raffles, static bike challenges, a sky dive and mass wearing of yellow and blue, for Ukraine.
The company hopes that £20,000 will be raised through colleagues' fundraising initiatives and will match fund everything raised, up to £20,000.
Justin Ash, Spire Healthcare's chief executive, said: "All of us at Spire have been touched by the events of the past few months in Ukraine and we want to do what we can to help. Colleagues around the UK have put in a phenomenal effort to raise money through a vast array of imaginative fundraising challenges and ideas.
"Here in Yorkshire, I've been pleased to play my part by getting on my bike and want to thank all of those colleagues and consultant partners who took part in the ride and cheered us on at our Yorkshire hospitals. 240km was a challenging distance but it's all been worthwhile."
Jenny Graham said: "I really enjoyed riding with the Spire team, meeting so many people from across the business and getting out to see the Yorkshire countryside. The atmosphere was so welcoming, enjoyable and supportive, which was great for encouraging some of the cyclists who were doubling what they had cycled before. It was good to take part for such a worthy cause and I wish everyone at Spire the best in all the fundraising endeavours they're doing for Ukraine.