Top survival rates for heart surgery patients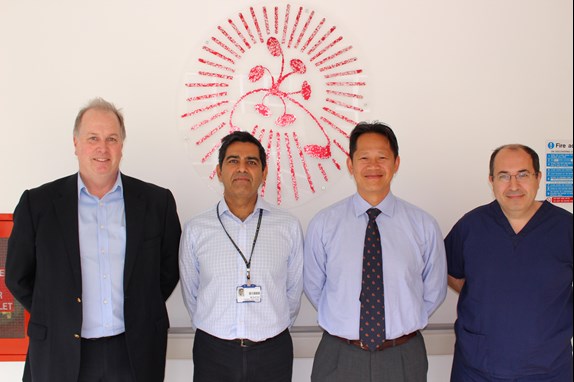 Spire Southampton Hospital is one of the exclusive three hospitals, and the only private hospital, to receive a letter of congratulations from the Society of Cardiothoracic Surgery in Great Britain (SCTS) for recording a survival rate higher than expected, based on a risk adjusted outcome model.
The survival rate of 99.4% is the highest of any of the 40 hospitals included in the study – the national survival rate was 98.04%. The National Adult Cardiac Surgery Audit also demonstrates that Spire Hospital Southampton cardiac surgical patients have more complex operations, with an older average age, making the risk adjusted outcomes more impressive.
Spire Southampton's Hospital Director, Margaret Da Costa praised the efforts of the Cardiac team:
"We are delighted to be one of only three hospitals to have received a letter from the National Institute for Cardiovascular Outcome Research, recognising Spire Southampton for their high survival cardiac outcomes. This audit recognises both the complexity of the cardiac surgery carried out at Spire and the outstanding work of both the surgeons and cardiac teams within the hospital."
The study compares cardiac outcomes over a three year period between April 2013 to March 2016. The complexity of the surgery and survival rates are 'risk adjusted' to take into account a patient's health, allowing a fair comparison to be made between hospitals. The report also looks at individual surgeon data. All five Spire Southampton cardiac surgeons are in the top 10 nationally in terms of number of cases with outstanding survival rates.
Mr Clifford Barlow, one of the Cardiac Surgeons from Southampton Cardiac Surgery, emphasised the importance of the team approach at Spire Southampton:
"The entire approach to Cardiac Surgery at Spire Southampton involves a team effort – from admission, to the operating theatre and throughout the recovery period in the intensive care and wards. Although individual surgeon performances are also published by SCTS, the risk adjusted outcomes achieved by the entire unit are more significant. The hospital outcome reflects the emphasis placed by Spire Southampton on the whole team as well as how accurate and thorough audit and clinical governance benefits all of our patients."