Spire invests £360,000 in new X-ray equipment for Spire Dunedin Hospital
Spire Healthcare has unveiled a new X-ray machine at its Dunedin Hospital in Bath Road, Reading. The new equipment, which represents an investment of £360,000, will provide quicker results, with greater comfort, for NHS and private patients requiring diagnosis and treatment.  
It will enable images to be taken and processed in as little as five seconds, compared with one minute, which it took the previous equipment to process. It will provide the best quality image that any digital X-ray equipment can currently produce.
All of this will mean that more patients can receive X-rays at the hospital every day. The new equipment will also be more efficient and easier to operate for the Spire team.
The project also included the refurbishment of the room where the machine is situated, to make it lighter, brighter and more open. All of these changes will make the experience of having an X-ray more comfortable for patients, as well as providing a better environment for Spire clinicians to work in.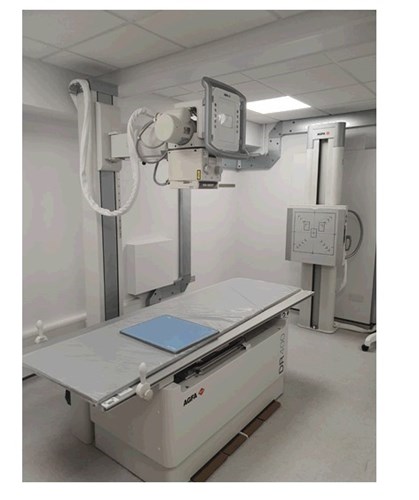 The whole project was a complex process, which entailed teams working on site for three months to remove the existing equipment, refit the room and install the new machinery.  
John Crisp, Hospital Director at Spire Dunedin, said: "We are absolutely committed to making sure our patients can have fast access to diagnosis and treatment. Investing in state-of-the-art facilities, like our new X-ray equipment, enables us to do this.
"We are proud to have played an important role in helping to keep services going during the pandemic, when our local trust needed to focus on treating COVID-positive patients. With our new equipment, we can play our part in tackling waiting lists, which have grown across our region as a result of the pandemic."
The new X-ray equipment is part of a wider investment programme at the hospital, which includes a £3 million investment in a new MRI scanner, imaging suite and the creation of a new outpatient department.