CQC rate Spire Sussex Hospital as 'Outstanding'
Spire Sussex Hospital has just been awarded an 'Outstanding' rating following an inspection by the Care Quality Commission in December 2016.
CQC inspectors assessed whether services offered were safe, effective, caring, responsive and well led. As a result Spire Sussex Hospital received 'Outstanding' for caring, responsive and well led, and 'Good' for safe and effective - resulting in an overall rating of 'Outstanding'.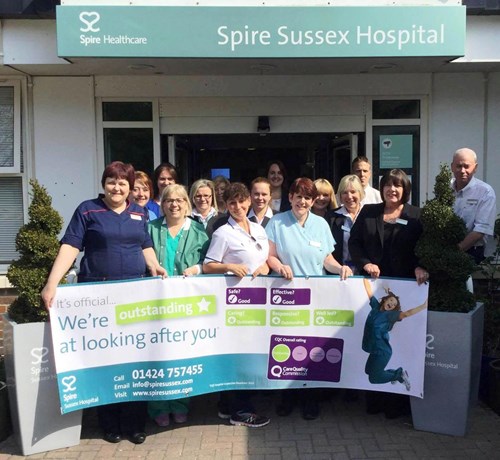 The CQC found that feedback from patients about the quality of care and their experience at Spire Sussex Hospital was overwhelmingly positive. Patients were truly respected as individuals and supported in being involved in their care.
The CQC also spoke to members of staff who said they were proud to work at the hospital and felt supported by a leadership team that inspired them, and who were credible and visible.
The CQC felt that a safe and high quality service was assured through robust governance structures that proactively reviewed performance.
Hospital Director, Linda Dineen said she was 'absolutely delighted' with the rating which was 'a credit to everyone involved within the hospital.'
She added: "The CQC inspection really is crucial to us as a hospital and for us to get an Outstanding rating is something we are all very proud of. 
"It demonstrates a very strong performance from staff across the whole hospital with the consistent delivery of high standards of care throughout. From housekeeping and catering throughout to admin staff, nurses and consultants, everyone should take some pride in this achievement," she said.
Click here to read the full report on the CQC website.