"Spire Cheshire Hospital saved my life"
In October 2021, Michelle Staveley, now 52, started to suffer with chronic heartburn and acid, so she sought advice from her GP. Having been prescribed various different medications, her symptoms were unfortunately not alleviated.
The following January, she was referred to her local hospital, where she underwent investigations including biopsies and endoscopies. The results of these indicated that Michelle had a hiatus hernia as well as numerous ulcers. Once again, sadly the medication prescribed did not help, so Michelle was referred onwards to a gastric consultant.
A potential year-long wait for answers
With Michelle's health showing no signs of improving, she started to worry. This was compounded by the fact that there would be a year-long wait to see an NHS gastric consultant. Certain that she couldn't wait that long, Michelle approached Spire Cheshire Hospital through her private health insurance.
She was given a list of consultants that she could be referred to, and after reading Consultant Gastroenterologist Dr Khalid's impressive patient feedback, decided that she wanted to be treated by him.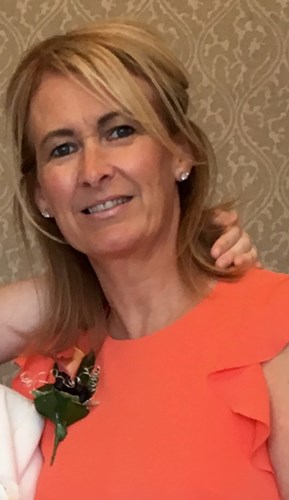 Further investigations reveal life-threatening illness
Having discussed her options with Dr Khalid, Michelle underwent a CT scan, followed by a further endoscopy, to rule out any underlying medical conditions – investigations that ultimately saved Michelle's life.
Sadly, the CT scan identified a 10cm long, Stage 3 tumour on Michelle's left kidney, which was the underlying cause of the stomach ulcers she had been struggling with.
Immediate action from Dr Khalid and Michelle's local NHS hospital
Acting quickly due to the severity of Michelle's health implications, Dr Khalid immediately referred Michelle back to her local hospital, as she needed specialist cancer treatment and major surgery to remove her kidney.
This provided the best possible outcome for Michelle, as she was told that she was now cancer free. Having been so impressed by Dr Khalid's expertise, Michelle returned to his care at Spire Cheshire Hospital.
Concerned that her initial CT scan had shown inflammation in her small intestine, Dr Khalid undertook a colonoscopy and an MRI scan, then a further endoscopy, which identified Crohn's disease.
"My cancer could have gone undiagnosed until it was too late"
Michelle says: "Throughout my time at Spire Cheshire Hospital, Dr Khalid and his team were professional and compassionate, especially with the complex nature of my case. This resulted in information being shared between the multi-disciplinary teams within the NHS and Spire Cheshire Hospital. It was a fantastic example of the NHS and the private healthcare sector excelling together.
"From Dr Khalid's diagnosis of the kidney tumour to having surgery it only took three and a half weeks. Without a doubt, Spire Cheshire Hospital and Dr Khalid saved my life - my cancer could have gone undiagnosed until too late."
Reflecting on Michelle's journey, Dr Khalid says: "Unfortunately, Michelle's experience with long delays in receiving assessment and investigations is not uncommon. There are tens of thousands of patients across the country facing such delays and some of them will have underlying cancer as the cause for their symptoms.
"It's more important than ever for patients with concerns or symptoms to seek early medical advice. The most crucial step in treating any cancer is early diagnosis. In my area of expertise, bowel cancer can be cured in over 90% of cases when detected early. A colonoscopy test is a straightforward investigation and can save lives.
"I'm delighted that I was able to organise investigations for Michelle which in turn allowed her to receive lifesaving treatment. It's frightening to imagine what would have happened if Michelle had been left waiting for 12 months for a consultation. I wish her a full recovery and a happy and healthy life ahead."
Find out more about gastroenterology treatments at Spire Cheshire Hospital.