Endoscopy services at Spire Cheshire Hospital receive accreditation from Joint Advisory Group (JAG)
The gastroenterology team at Spire Cheshire Hospital celebrated being awarded national and independent accreditation for their extensive endoscopy services. Accreditation from The Joint Advisory Group (JAG) on Gastrointestinal Endoscopy ensures patients can feel assured and confident they will receive excellent and consistent care while undergoing an examination.
JAG measures endoscopy services against national benchmarks to reduce variation, and to drive up standards of care for patients. The assessors scrutinise four areas of the service including:
Clinical quality
Patient experience
Workforce
Training
Endoscopy is used for diagnosing and treating conditions affecting the stomach, intestines, oesophagus and rectum – including the early signs of bowel cancer. It is a vital diagnostic tool and is used extensively. Following an investment in 2016, Spire Cheshire Hospital opened a new, nine pod day care centre with a brand new endoscopy suite and decontamination. Today an extensive team of consultant specialists use the centre supported by nurses, healthcare assistants and a decontamination team. An increasing number of patients seek treatment at the centre each day with many travelling long distances.
Nurse Emma Canning is the lead for endoscopy services at Spire Cheshire Hospital. She explained:
"I am extremely proud of the Endoscopy team at Spire Cheshire and for all their hard work and dedication. This is a fantastic achievement and we can take pride in being able to show we offer a recognised, high quality and safe service which meets the JAG requirements. The accreditation highlights our dedication and we thrive on delivering best practice with care, compassion and empathy. We continue to ensure our patients are treated with privacy, dignity, respect and which enables us to support our patients as individuals to minimise stress and anxiety as we understand an endoscopy examination or treatment can be a stressful experience for our patients.
"I would like to thank the team of amazing nurses and HCAs for all their hard work and dedication."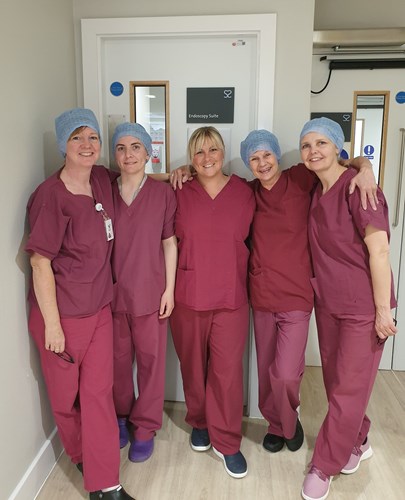 Linda Ormson, Director of Clinical Services at Spire Cheshire Hospital spoke about the achievement saying:
"I am very proud of the endoscopy team for their hard work and the level of patient care they provide. Our team go above and beyond on a daily basis, noting our patients as the priority and ensuring their quality of service and safety is also preserved. Well done to all [for a] fantastic achievement!"