New physiotherapy facilities unveiled at Spire Cheshire Hospital by Lancashire County cricketer Rob Jones
£13,000 of new equipment will improve rehabilitation options and outcomes for patients after injury or surgery
NHS and private patients will benefit
Spire Cheshire Hospital in Warrington has celebrated the opening of a refurbished outpatients physiotherapy department, with the help of Lancashire County cricketer Rob Jones. The investment of £13,000 to upgrade the facilities and install new equipment will deliver greater rehabilitation opportunities and improved clinical outcomes for patients who are either recovering from surgery, injury, or simply managing their musculoskeletal health.
In addition to upgrading the department's facilities to improve patient comfort, a new treadmill will allow patients to have their gait analysed (how your feet move when walking or running), to help them progress from walking with assistance, through to running un-aided.
A range of new lower-limb and upper-limb strengthening equipment will also help Spire Cheshire's physio team prescribe patients with personalised strength-training programmes.
To help celebrate the refurbishment of the physio department at Spire Cheshire Hospital, Rob Jones visited the team and said: "This is a fantastic facility with great equipment and highly experienced physios. Having relied on good musculoskeletal for my cricketing career, I understand the importance of having access to great physios and the best facilities. Seeing the enthusiasm and professionalism of the team here at Spire Cheshire, and all this great equipment just waiting to be used, I am sure the patients will benefit greatly from it all."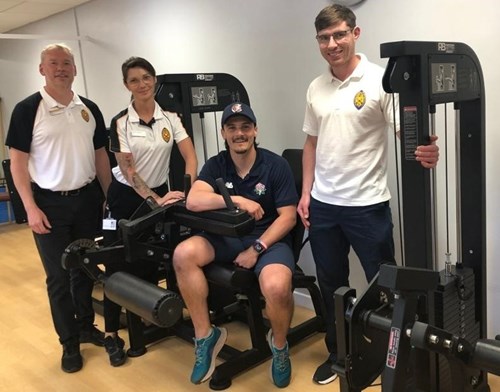 Ben White, Hospital Director at Spire Cheshire Hospital, said: "This is an exciting time for our physiotherapy department. Our new equipment will benefit patients by offering more rehabilitation options as well as improved clinical outcomes which will help us maintain the high standards in healthcare that patients have come to expect from Spire hospitals. We are here to make a positive difference to people's lives, through the outstanding personal care we provide. Our new equipment will allow an improved experience for both our private and our NHS patients across Cheshire."
Matthew Gouldthorpe, Physiotherapy Manager at Spire Cheshire Hospital added: "It is great to see the new equipment at Spire Cheshire Hospital which will allow us to offer more options to our patients. The equipment comes with several benefits and will allow us to offer a tailored rehabilitation programme enabling patients to achieve their goals."