Spire Nottingham Hospital welcomes The Circulation Clinic
Spire Nottingham Hospital is delighted to welcome The Circulation Clinic to its CQC Outstanding rated hospital in Tollerton, Nottingham.
The Circulation Clinic is an innovative group of four renowned Consultant Vascular and Endovascular Surgeons dedicated to assessing, investigating, and treating peripheral arterial and venous disorders. Their combined expertise provides a comprehensive multidisciplinary approach to improving the circulatory health of their patients.
The team specialise in both open and minimally invasive (endovascular) treatments for the full range of vascular problems including:
thread veins
leg ulcers
claudication
aortic and popliteal aneurysms
carotid artery disease
Mr Rob Davies, Consultant Vascular and Endovascular Surgeon said;
"The Circulation Clinic is proud to be partnered with Spire Nottingham Hospital, a 21st century facility equipped with the all the tools needed to deliver modern vascular surgical treatment. Above all, we know that it takes dedicated and caring professionals to deliver truly excellent healthcare, which is why we are pleased to work with such an outstanding team at Spire Nottingham Hospital."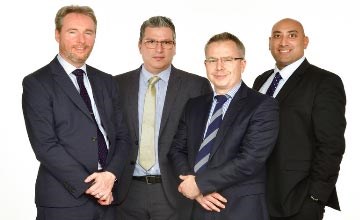 (Pictured, left to right; Mr Greg McMahon, Mr Tryfon Vainas, Mr Robert Davies, Mr Harjeet Rayt)
To book an appointment call our Private Patient Team on 0115 937 7801.