Women's health one stop clinic
Dr Shilpa Deb now offers a one stop clinic for advice and diagnosis of common gynaecological problems. Some conditions are not routinely screened in the NHS such as;
Menstrual disorders
Fibroids
Polyps
Ovarian cysts
Pelvic pain
Pelvic infection
Menopause
Fertility
This clinic gives you fast access to a Consultant expert.
Who can go to the clinic?
This service is available to everyone and if you wish to self-fund, a GP referral isn't necessary.
Patients with health insurance can also access the clinic so long as pre-authorisation has been given (this number will be requested on arrival).
What does the clinic include?
Consultation with an experienced Consultant Gynaecologist
Pelvic Ultrasound scan (if required)
Advice on further investigations and treatment (if required)*
Instant advice and treatment plan**
Free parking and light refreshments
When is the clinic?
Mondays (Monthly)
How much does it cost?
Consultation and treatment advice with Dr Shilpa Deb is £200.
Full package including pelvic ultrasound scan is £495.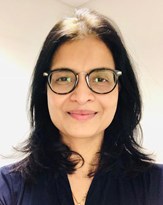 Dr Shilpa Deb, Consultant Gynaecologist
To book an appointment or find out more information call our Private Treatment Advisors on 0115 937 7735 or complete the form below. 
*Additional tests and procedures may be conducted on a different day.
**Further tests may be recommended which will incur additional charges. You will be advised of all additional costs so you can decide whether to proceed with private           treatment.
Women's Health One Stop Clinic
Dr Shilpa Deb
Thank you for your enquiry. A member of our team will be in touch soon. Kind regards Spire Nottingham Hospital