New Hospital Director has been appointed at Spire Nottingham Hospital
A new Hospital Director has been appointed at Spire Healthcare's state-of-the-art £65M Nottingham hospital in Tollerton, South Nottingham.
Tom Ryder has been hand-picked by the Spire group to continue leading the ambitious growth strategy at their newest 42-bed facility, which was rated Outstanding by the Care Quality Commission (CQC) in 2018.
With the hospital's third birthday fast approaching, Tom is delighted to join the team at such an exciting time.  
Tom brings a wealth of experience having previously been Hospital Director at Spire South Bank Hospital in Worcestershire and says, "Spire Nottingham has a vision to be the first choice for private healthcare in the region. Now I have taken over, I can see how far they've come with that vision. The staff and consultants are second to none and I could not be prouder to take over such a prestigious local hospital and work with such a talented group of clinicians."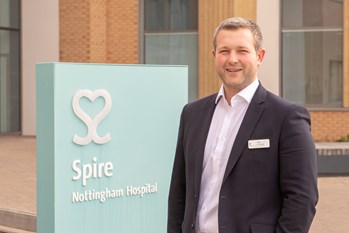 Spire Nottingham encompasses most clinical specialties including Orthopaedics, Ophthalmology, General Surgery, Cardiology, Urology, Gynaecology and Cosmetic Surgery and treats adults and children of all ages.
Spire Nottingham has 42 private en-suite rooms, 11 daycase beds, four theatres including a hybrid theatre, endoscopy suite, on-site MRI, CT, X-ray, ultrasound and mammography, physiotherapy, pharmacy and 300 free car parking spaces.