We can help you make the most of your career
Read Angela's story
How long have you worked for Spire Healthcare?
I started at Spire Manchester in July 2018.

Where did you work before?
I worked for a large NHS Trust in the area and had worked in the NHS for 21 years.

What made you choose Spire?
I wasn't actively looking, I was made aware of the position from a colleague and it seemed like a new challenge. I hadn't really considered Spire before, but was open to the opportunity and the change.

Tell me a bit about your role?
I am the Orthopaedic Team Leader, I manage the scrub team. We are a growing service so I am helping to shape that growth. I enjoy being involved in the changes. I have a small team so we've got to know each other very quickly, I was made to feel so welcome and I enjoy working with them.

What is important to you in your role?
I enjoy the challenge of my role; I have the opportunity to develop my skills, the training and courses available are fantastic.

Has anything surprised you about Spire?
It's a really friendly place to work, I did have some hesitation around leaving the NHS with the pension for example, but Spire is very competitive. I've felt really supported and the free parking is a real bonus!

What do you enjoy about working at Spire Manchester?
It sounds cheesy but we have a small community feel, I have worked in larger organisations and although I got to know everybody eventually - that took time, whereas here I met everyone quickly through team meetings and leadership forums.
Would you recommend Spire as a place to work?
Yes, absolutely.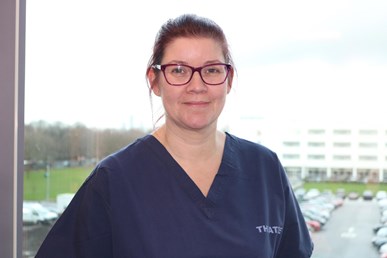 Angela Booth, Orthopaedic Team Leader
Spire Manchester Hospital
---
Discover more and apply for opportunities
Email: Recruitment@spireheathcare.com