Stem cell therapy and arthritis of the hip treatment
What are stem cells?
Stem cells are perhaps nature's best-kept secret. These cells, which are found in multicellular organisms, such as humans, not only have the ability to divide but also to form various structures such as cartilage, bone and many more.
What types of stem cell are there?
There are two basic forms of stem cell – the embryonic stem cell and adult stem cell.
Adult stem cells, which are also known as mesenchymal stem cells or MSCs, are of great interest to researchers, scientists and surgeons alike. MSCs are free of the controversy that surrounds the embryonic stem cells and yet have the potential to form new tissues. At The Manchester Hip Clinic, in Spire Manchester Hospital, we use the MSCs. They gives us the ability to repair and regenerate tissues such as cartilage and bone more effectively.
MSCs can be found at various locations in the body, including bone marrow, adipose tissue (fat) and peripheral blood. We favour the use of marrow-based or peripheral blood stem cells.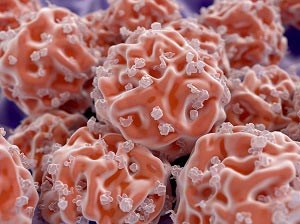 Where can stem cells be used?
By their very nature, stem cells can be used in a variety of different situations to help in the repair and regeneration of damaged tissues and structures.
In joint preservation, one role of stem cells is in the possible treatment of arthritis of the hip. This can potentially be accomplished by regeneration of cartilage. Once the surface layer is damaged, the joint is likely to progress to frank arthritis, which presents as pain, stiffness and loss of function. Stem cell therapy may be used in an attempt to encourage regeneration of this layer. The procedure is designed to help preserve the natural hip joint and to delay or prevent the need for more major operations such as hip replacement.
What does the procedure involve?
The procedure is in the form of arthroscopy (keyhole surgery) of the hip. Patients often ask whether stem cell therapy involves surgery on two separate occasions. For the techniques that we use, only a single operation is normally required. Most hip arthroscopy patients will have one night's stay in hospital. 
Once the patient is under anaesthetic, a sample of their blood and marrow is taken. In order to harvest the stem cells, the aspirate is then processed in the operating theatre, while the patient is still asleep. At the same time the keyhole operation (arthroscopy) is commenced to access and reshape the hip. Professor Fehily uses specialist arthroscopy techniques to prepare the tissue bed so that it is ready to receive the stem cells. The harvested stem cells, alongside a suitable scaffold, are then injected through the same keyholes that are routinely used for the arthroscopy.
What are the side effects?
Any surgical intervention carries a degree of risk however the surgical procedures used for stem cell therapy are the same as those for routine hip arthroscopy operations. There is a theoretical risk of infection, but this is low and surgery is in any event covered by antibiotic treatment. As for the stem cells, these are derived from the patient's own blood or marrow, so there is no risk of rejection or disease transmission.
What is the evidence for stem cell therapy?
Stem cell therapy is a relatively new procedure. However, it has created so much interest worldwide that extensive research has been taking place in this field. Animal and human studies have been published that have suggested a safe and favourable response to stem cell therapy in hips, knees and even ankles. 
For more information about stem cell therapy and the treatment of arthritis of the hip please contact us.
Max Fehily is a consultant orthopaedic surgeon specialising in the hip. For more information or to book an appointment with Professor Max Fehily, please call 0161 447 6700.
The content of this article is provided for general information only, and should not be treated as a substitute for the professional medical advice of your doctor or other healthcare professional.