Spire Manchester Hospital marks construction milestone at Didsbury site
On the 20th October 2015 Spire Manchester Hospital staff witnessed the final concrete pour at the highest point of the structural build at its new private hospital in West Didsbury during the official topping out ceremony, marking the prominent milestone.
Attendees had an exclusive preview of the new hospital, which is due for completion in early 2017. Once opened, the new hospital will have six operating theatres and offer a full range of surgical and medical treatments.
Sarah Whitham, Radiology Team Leader at Spire Manchester, said "Being involved in this project is a fantastic opportunity for staff, giving us the opportunity to offer new tests and treatments."
Her colleague Shazia Ahmed, a pharmacist, added "We look forward to bringing our high standards of care and commitment to the wider Manchester community."
Dawn Davies, Matron and Head of Clinical Services at Spire Manchester Hospital, commented: "Anticipation levels have risen now that we've reached this point of the build, with focus now moving onto the interior. The new hospital will give us more space and therefore the capability to deliver safe, high quality clinical care in a new modern, purpose built clinical facility."
The new development will be equipped to undertake a significantly enhanced range of services, including highly complex surgery and medicine through a large Intensive Therapy Unit (ITU) together with advanced diagnostic and imagery equipment. The new hospital will also have hydrotherapy, a hybrid theatre and a 150 seat education centre.
Neil McCullough, Spire Healthcare's Group Development Director, commented: "This marks the halfway stage of construction and our staff are really excited to see a glimpse of what is to come. The new hospital will bring new services and potential employment opportunities to the people of Manchester and surrounding areas, plus a focus on education within the healthcare arena."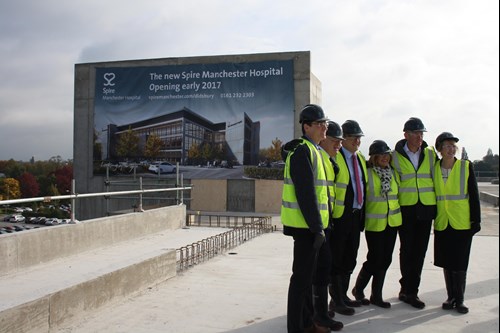 Thank you for your booking request, we will get back to you shortly.