Modern developments in knee replacement surgery and personalised knee replacements (PKR)
Knee replacements are a common orthopaedic operation carried out for arthritic knees which are causing pain and leading to disruption to the patients' quality of life.
Traditional knee replacements utilise x-rays from which some measurements can be made. At the time of the operation, standard cutting blocks are used to prepare the knee for a knee replacement, based on estimate of best fit and correction of deformity during the procedure itself. This is currently the most common way to perform total knee replacements and is a very successful method of undertaking the surgery.
Now new technology is making the patient the centre of knee replacements.
Professor Jari routinely uses a novel technique of personalised or bespoke knee replacements as he understands that both patients and their individual anatomy are unique. This technique involves a preoperative CT or MRI scan, which is sent to the prosthesis manufacturer. Patented computer aided design (CAD) technology is utilised to create a 3D model of the patient's unique knee anatomy from which the best size implants is calculated. Pre-existing deformities are defined and corrections built in to the specifically designed cutting blocks. Personalised cutting blocks are then created, which are sent back to Professor Jari for use during the operation. It is also possible to manufacture bespoke knee replacement components which are then implanted into the patients' knee once the personalised cuts have been made.
The result is more specific and accurate personalised bone cuts being made, which have been predetermined prior to the operation. At that point either a standard or bespoke knee replacement can be put into the knee, depending on which knee system is being used.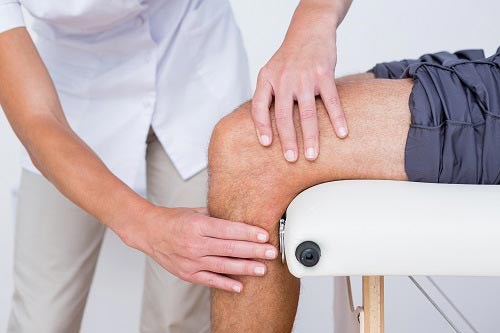 The use of PKR means that surgery is less invasive and can reduce potential complications during surgery that can be associated with knee replacements such as, heart and lung complications which occasionally occur. Because it is less invasive there is usually less bleeding, less pain, less chance of needing a post op blood transfusion and can result in a quicker recovery.
Extensive research has been carried out by knee implant manufacturers to produce personalised knee replacement solutions, specific to the patient's individual anatomy. So this is not experimental surgery.
The important technical aspect of a knee replacement is to ensure that the alignment is mechanically correct, which is where personalised surgery can be advantageous. If the alignment is incorrect, the knee can wear out more quickly. This would be similar to putting tyres onto a car where the alignment is off. The tyres will wear out more quickly due to uneven wear.
The personalisation of the knee replacement does not affect the surgeon's ability to modify and adjust the implants at the time of the operation if necessary.
When the PKR is combined with Professor Jari's enhanced recovery protocol this usually leads to a more pleasant patient experience with a shorter hospital stay.
Please visit our Bones and joints treatments page, or contact us, for more information about knee replacements and our orthopaedic service at Spire Manchester Hospital.
For further information please visit Professor Jari's website. 
Sanjiv Jari is a consultant orthopaedic surgeon specialising in knee surgery. For more information or to book an appointment with Professor Sanjiv Jari, please call 0161 447 6700.
The content of this article is provided for general information only, and should not be treated as a substitute for the professional medical advice of your doctor or other health care professional.