Give tennis injuries the elbow
Mr Chris Peach talks us through preventing upper limb tennis injuries
Tennis is the sixth most common sport to be played in the United Kingdom. This might come as a surprise to some who have seen the tennis courts at their local clubs look like swimming pools or duck ponds during what may be the wettest June on record.
As we look forward to Wimbledon, the lucky few who will travel down to SW19 can dream of sunshine, strawberries and cream and enjoyable tennis, whilst the rest of the club tennis players are staying at home. For those who are continuing to play this summer, it may not be at the forefront of your minds to consider the frequency and burden of injury to the upper limb in what is a non-contact and leisurely pastime.
However, injury to the upper limb in amateur and professional tennis players is extremely common and can cause significant pain and disability leading to the affected individual needing not only to take time out from tennis, but sometimes from work as well. In this article we will examine the common injury patterns in the upper limb in tennis players, why they occur and what the current best treatments are.
In general upper limb injuries in tennis players are more chronic overuse injuries as apposed to the more sudden acute onset issues that occur in the lower limb. It might due to the fact that tennis is one of the few sports not to have a finite limit on time to complete the match. John Isner and Nicolas Mahut, many might remember, thrashed for 11hrs and 5 minutes in 2010 at Wimbledon before being able to declare a winner in their first round match. The difference in equipment used as well as biomechanics and physical demands also make tennis and its injuries sustained stand alone from other sports.
Broadly, tennis is classed as an overhead throwing sport. This means that in order to get the arm into this overhead throwing position and to create power and accuracy, supraphysiologic forces need to be generated from the shoulder and elbow many times in succession each match. The serve is peculiar to tennis and is the most strenuous stroke, producing the highest activities in the muscles of the upper limb. It is here where we can begin to understand why this produces injury and learn about prevention strategies.
Producing power when serving is not just reliant on the arm alone. The 'kinetic chain', or sequence of muscle and joint units connected together, contribute in turn toward the serve. This starts from the feet and knees and travel from the lower extremity through the trunk and back to the upper limb ending at the racquet through the hand and wrist. 51% of the power of the serve actually comes from the leg, hip and trunk segments. If there are weaknesses or breaks in this chain it can lead to injury at that point or further down the chain. For example, poor condition of the thigh muscles can not only lead to lower serving strength and accuracy, but also lead to injury at the hip and also as far as the shoulder and elbow. Those of you unlucky enough to have sustained an injury to the shoulder and have seen a physiotherapist may well have had their core stability (this represents the muscles of the torso which maintain posture) looked at which takes into account the kinetic chain theory. In fact this was measured during the 2000 Olympics in Sydney and when players had more effective knee bend during serving, the strain placed on their shoulders and elbows was significantly lower thus lowering their predisposition to injury.
Could the rapid innovation in tennis equipment have lead to a change in injury patterns? It would be intuitive to think that by changing the traditional wooden tennis racquet with its unforgiving sweet spot, to the less that half the weight (250g) graphite composite models we see today would reduce injury rates. However the increased frame stiffness and string tension in modern racquets do increase vibration transmitted to the arm. Furthermore, failure to connect to the modern sweet spot causes high speed racquet oscillations which altogether may contribute to tennis elbow. There has not yet been any scientific research that has shown a true correlation to levels of vibration and tennis elbow however and although helpful, vibration dampeners on the strings do not directly prevent injuries.
The frequency of injuries of tennis players both professional and amateur, has been the subject of close scrutiny over many years. Interestingly there is no difference in rates of injury between those two groups. However what is known to be different is that male players are injured more frequently than females and that as you age, injuries are more common as well. A veteran over 75 year old player is 50 times more likely to be injured than a junior. Overall injury risk with tennis for any one player is to get 3 injuries every 1000 hours of playing, which roughly equates to 1 injury per year for an average tennis player.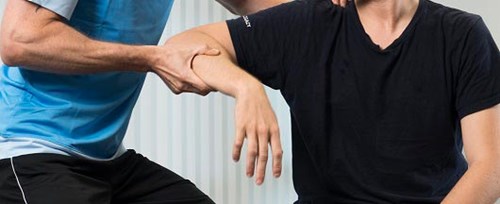 Shoulder injuries
Rubbing of shoulder tendons on the ligaments and stabilising structures around the shoulder socket can become problematic, especially if the shoulder becomes stiff. This 'internal impingement' is commonly manifested by pain during serving, felt mostly over the posterior aspect of the shoulder although this can spread anteriorly. The symptoms, although less frequently, can also be felt during ground stroke play. As the tendons rub repetitively against the socket, they can cause tearing of the rotator cuff tendons (these are the tendons that connect the main muscles of the shoulder to the arm bone). Additionally this repetitive friction can damage the supporting ligaments around the shoulder socket which, if left untreated, may result in full tears. If you were to visit a shoulder specialist, this would be commonly diagnosed based on a careful clinical examination and an MRI scan. Most cases can successfully be treated without surgical intervention. A skilled physiotherapist will be able to focus on restoration of normal movement in the shoulder, strengthening the rotator cuff muscles and stabilising the shoulder blade. Addressing issues with lack of core stability and any weaknesses in the 'kinetic chain' will also prevent further strains on the shoulder structures. Rotator cuff tendon tears and tears of the supporting ligaments inside shoulder can be successfully repaired with keyhole surgery and, after a period of rest and rehabilitation of approximately eight weeks, players can return to playing.
Elbow Injuries
The term tennis elbow will be widely recognised to most people, tennis players or not. It was a condition first described in the UK by British surgeon Henry Morris in an article outlining 'lawn tennis arm' in 1882 and it subsequently adopted its name in 1883 in a further article entitled 'lawn tennis elbow'. In fact it is estimated that only less than 10% of tennis players get tennis elbow and for the majority of those affected they have never picked up a racquet.
I cannot ever recall hearing of Andy Murray, Roger Federer or their contemporaries taking time off with tennis elbow. Tennis elbow affects the recreational players much more commonly than the professionals. This is caused by the excessive contraction of the muscles on the back of the forearm, pulling on the tendons on the outside of the elbow, predominantly during backhand shots. This leads to more trauma on a microscopic level to these tendons. Professional players have a stronger wrist position which prevents the stretching of the tendons during these shots. However all is not lost for the amateurs as the tendon problems felt on the inside part of the elbow, the so called 'golfer's elbow', is more common in high level players. As with tennis elbow, golfers elbow is more common in non-golfers and actually occurs with some frequency in tennis players. Failure of technique is a common cause of golfers elbow in high level tennis players and highlights the need for intervention by the tennis coach as well as the surgeon or physiotherapist in many tennis injuries. If the player tends to snap the wrist on serving or forehand top-spin shots this can lead to increasing strain and injury to the tendon on the inside part of the elbow.
Tennis elbow symptoms come on slowly and it is rare that this is brought on by one single episode or injury. Pain is felt on the prominent bone on the outside part of the elbow. Aching spread down the forearm towards the hand and is worse on bending or flexing the wrist. For sudden onset pain, for example if it comes on during a serve, it can represent tendon tearing rather than the usual slow degeneration and irritation of the tendon that is seen in elbow 'tendinoses' seen in sports. MRI scanning or ultrasound scanning can be an adjunct to simple clinical examination which is usually sufficient. Initial treatment is with rest and physiotherapy. This involves tendon stretching treatments as well as manual therapies such friction massaging or acupuncture. Additional measures when returning to play are sometimes helpful, including increasing the size of your tennis grip, wearing a tennis elbow brace, avoiding playing on damp days with wet heavy balls and reducing string tension on your racquet.
Further interventional treatment may be required if more conservative measures fail to control symptoms. This includes platelet rich plasma (PRP) injections which uses a portion of a sample of your own blood which attracts tendon healing cells and directly injects it into the tendon and is a new 'natural' treatment which has been shown to promote tendon healing. Traditionally steroid injections have been used and, although anecdotally successful in some, overall may cause more damage to the tendon in the long-term and their use is gradually being discontinued. Surgical procedures including more common open operations and newer keyhole procedures are normally reserved for resistant cases. However if used in appropriately selected cases, will be very successful in resolving elbow tendon pain. The key to preventing elbow tendon issues in the recreational as well as elite tennis player is focus on strength and endurance training for muscles in the elbow and the forearm as well as focusing on the condition of the other components of the 'kinetic chain'.
We hope to salvage some sporting pride from this summer by supporting and cheering on more success by Andy Murray at Wimbledon this year. With increasing numbers drawn to playing this popular sport, injuries become more common not only with the usual sunburn, abrasions and blisters but also to more complex upper limb injuries. The main elements to prevention are attending to equipment and to ensure a good general level of fitness by strengthening not only the elbow and forearm muscles but also the leg and trunk musculature. Most injuries can be managed by sensible lengths of rest and anti-inflammatory treatments. Persistent cases should be looked into by a Shoulder and Elbow specialist, who can make an early diagnosis thus directing accurate treatments and enabling access to more interventional treatments if deemed necessary.
Chris Peach is a consultant orthopaedic surgeon specialising in shoulder and elbow. For more information or to book an appointment with Mr Chris Peach, please call 0161 447 6700.
This article is only written to provide general information and should not be construed as specific advice, regarding specific injuries in individuals. If you have any queries or concerns, you should consult an appropriately qualified practitioner.