#bloodnotmoney - A Manchester man's crusade to encourage blood donations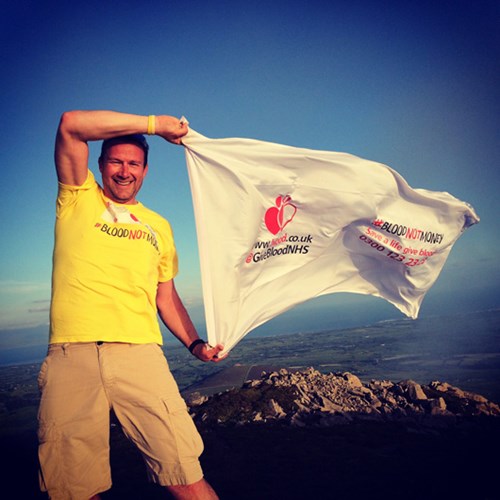 Rick was only five when a blood transfusion saved his life after a haemorrhage following a routine operation, while wife Kerry required 13 units of blood to keep her alive when son Christian was still born in 2007.  She also required six units during labour in 2009 when daughter Amy was born. The couple also have a 13-year-old son Matthew.
The still birth inspired Rick to become a regular blood donor and campaign on behalf of the Blood Service.  Having just made his 59th donation, Rick sees this as his duty to society to pay back those who have to save his and his Wife's life.
In order to continue to give blood long term, Rick at nearly 20 stones decided to change his lifestyle and lost over 5 stones and got active. He now runs, walks, cycles and generally takes on a physical challenge to raise awareness of  #bloodnotmoney
So far this year Rick has completed 10 Virtual Runs ranging from 5k to 10k and has completed the Stanley Park 10k and Great Manchester Run (dressed as the Blood Services' mascot "Billy Blood Drop")
Rick is still to run the We Love Manchester 10k, City of Salford 10k, Illuminations 10k and the Great North Run.
"I wouldn't  be running any of these if it wasn't for the fantastic team at Spire Hospital Manchester who diagnosed, operated and aided my recovery from Bi-Lateral Release of the patella in September 2014".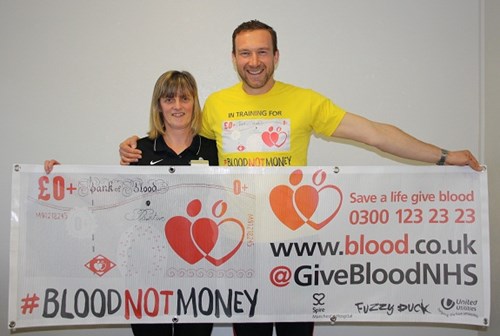 "Blood products are used daily and not always for surgery or accidents with most (68%) utilised for cancer patient treatments. We all know of somebody who has received a blood product at some point.
"I'm asking people to give blood, not money as you never know when you might need it. Unfortunately, Manchester has a pretty poor record at donating blood. Nationally, four per cent of the population are active blood donors and this area is well below that figure."
Anyone aged between 17 and 65 and in general good health can visit www.blood.co.uk or call 0300 123 23 23.