Spire Bushey Hospital launches pioneering new knee treatment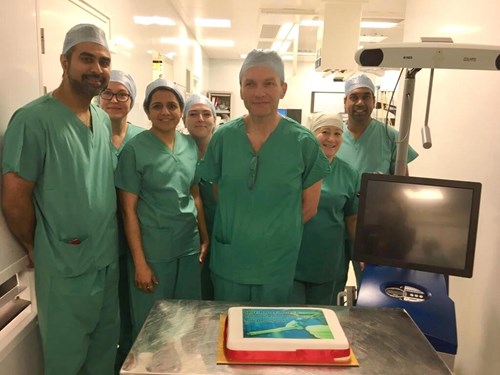 Last week we celebrated the fact Spire Bushey Hospital were the first hospital in Europe to perform robotic assisted total knee replacement surgery - without the need for a CT scan!
The procedure was performed by Specialist Orthopaedic Consultant, Mr Richard Carrington (pictured with his theatre team). Well done to all staff involved in this amazing achievement.
Spire Bushey Hospital is leading the way in orthopaedic surgery and has been selected by industry experts Smith & Nephew to be the first hospital in Europe to offer this pioneering new system. This cutting edge technology has already been used successfully in the USA to the benefit of many patients.
The NAVIO total knee replacement procedure is available to patients at Spire Bushey. Read more.