Your guide to party footwear
Anna Fox, Consultant Orthopaedic Foot and Ankle Surgeon
It's the year when party season is in full swing and high heels are out in force. As a female foot and ankle surgeon I appreciate the attraction of wearing glamorous footwear for the Christmas party, however I see regularly see the damage to the foot that may result. Here is my guide to what to look out for and how to protect your feet.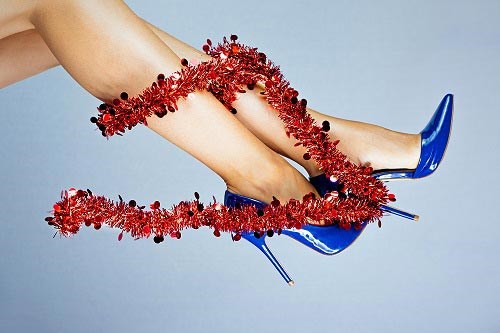 Problem 1. Pain in the ball of the foot. High heels are notorious for placing increased force through the ball of the foot which can lead to chronic inflammation, damage to the fat pad, acutely painful Morton's neuromas, and hairline stress fractures.  
Solution. Lowering the heel reduces the amount of weight going through the forefoot, but also consider using cushioning insoles and specific metatarsal dome orthotics that lift the weight off the forefoot. Wedges help by distributing the forces across the foot more evenly.
Problem 2. Bunions have long been associated with high heels and shoes with pointy toes. Once bunions have developed they do not return to normal and increasing deformity may cause rubbing and pain leading to surgery.
Solution. Opt for shoes with a wider, rounder toe box to allow space for the toes to spread and take the pressure off the big toe. A lower heel will help reduce the forces on the big toe and arch supports are often very helpful.
Problem 3. Arthritis in big toe can occur in young adults, causing stiffness and pain in the big toe restricting footwear choice.
Solution. A lower heeled shoe with a stiffer more rigid sole helps by reducing the bending at the big toe joint. A rocker bottom shoe, commonly seen with wedges, helps compensate for the lack of bend. In more painful situations, newer joint replacements such as the Cartiva may be considered.
Problem 4. Hammer toes are deformities that typically cause rubbing, pain and corn formation on the top of the toes. Surgery is sometimes required to straighten the toes out permanently.
Solution. Look for shoes that have wider, rounder toe boxes made in softer materials. Silicon hammer toe devices are widely available or can be custom made by a podiatrist.
Problem 5. Blistering and hard skin may occur from tight footwear, but also from shoes that are too big, due to friction caused by the foot sliding about.
Solution. Ensure you are wearing the correct size shoe. Try shopping for shoes in the afternoon as feet naturally expand during the day. Moleskin foam insoles help absorb friction and natural materials absorb moisture allowing the foot to breathe. Bespoke insoles can be made to offload specific areas of the foot.
Problem 6. Ankle instability. If you are prone to weak ankles, stilettos with their small heel surface area, increases the risk of twisting injuries, damaging ankle ligaments. Long-term instability and arthritis may develop.
Solution. Opt for a wider heel or wedge to increase foot stability and choosing a shoe with an ankle strap or a boot, stops your foot slipping out. Ensure shoe soles are well maintained and consider getting expensive shoes refitted by a cobbler. Rubber soles help reduce slipping.
Problem 7. Flat arches are extremely common but if left over a period of time, may develop problems in later life. Flat ballet pumps are notorious for causing problems as they offer no support to the structure of the foot. Flat feet can lead to problems such as plantar fasciitis, tendon damage and bunions.
Solution. Most flat feet are successfully managed with arch support insoles. For severe flat feet I recommend a bespoke orthotic from a podiatrist. Avoid completely flat shoes, and opt for a shoe with a small heel, about 2 inches.
Problem 8. Heel bumps are swellings that develop over the back of the heel in response to friction from poorly fitting shoes. In time skin may blister and breakdown.
Solution. Wear the correct shoe size and use cushioning heel pads to prevent rubbing. An ankle strap helps the heel stay in the shoe to reduce friction.
In summary, for the perfect party shoe to ensure your fun lasts all this Christmas session, follow these recommendations, however if you do choose fashion over function, remember to pack those comfy trainers for the journey home.
Miss Anna Fox is a consultant orthopaedic foot and ankle surgeon at Spire Manchester Hospital.  Miss Fox offers a multidisciplinary approach to foot and ankle problems, working closely with a podiatrist and a team of physiotherapists to treat patients.  Miss Fox has regular clinics at both Spire Manchester Hospital at the outpatient clinic in Hale village, for more information or to book a consultation call 0161 447 6700 or email info@spiremanchester.com
www.manchesterfootandankleteam.co.uk
The content of this article is provided for general information only, and should not be treated as a substitute for the professional medical advice of your doctor or other health care professional.