Weight loss surgery patient at Spire Manchester Hospital loses over eight stone
A life blighted with health issues
After years of discomfort and a life held back by limitations, Mark Carlisle realised that he needed a major lifestyle overhaul. Struggling with his weight at 26 stone 12 lbs, Mark, from St Helen's, suffered many physical afflictions.
The 48-year-old had been diagnosed with obstructive sleep apnoea, a condition that causes a halt in breathing while asleep, as well as snorting and loud breathing. This in turn affected his capabilities at work; the demanding, manual nature of his job as a construction site manager required concentration and a degree of physical fitness, which at the time, Mark admits he didn't have.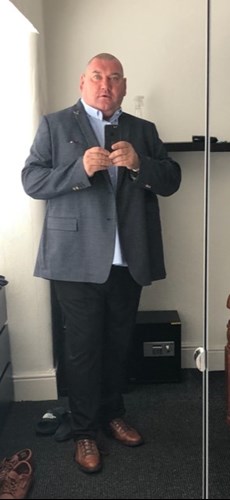 Mark Carlisle prior to his weight loss
Gastric bypass surgery at Spire Manchester Hospital
Deciding to take action, Mark began to look into the prospect of bariatric (weight loss) surgery. After carefully researching consultants and hospitals within the North West that could help him, he booked a consultation with Consultant Upper GI and Bariatric Surgeon Mr Bilal Alkhaffaf at Spire Manchester Hospital.
Following Mr Alkhaffaf thoroughly explaining the potential risks and benefits of various options, it was decided that the Roux-en-Y gastric bypass would be most suitable for Mark's circumstances.
Mark underwent his surgery on April 6 2021.
In the few short months since, the surgery has had a remarkable and transformative effect on Mark's life. Previously, the demands of his full-time job left his energy reserves depleted, but now he can complete a day's work to the best of his ability. He also now enjoys a full night's sleep after reversing his sleep apnoea, and generally enjoys a new lease of life.
Currently, Mark weighs 18 stone 7 lbs, which means that he has lost an incredible 8 stone 5 lbs since the start of 2021.
Reflecting on this, Mark says, "I had gained a lot of weight and become complacent. I developed sleep apnoea, and was always out of breath with no energy.  I took the decision to have the surgery in the first instance to lose weight, but also as a lifestyle change to enable me to maintain my weight after surgery. 
"Now, I can ride a bike and walk for long distances, something I never imagined doing as previously my fitness level wouldn't allow this. Food no longer dictates my life; now, small and regular meals are the way forward for me. I can't thank Mr Alkhaffaf enough."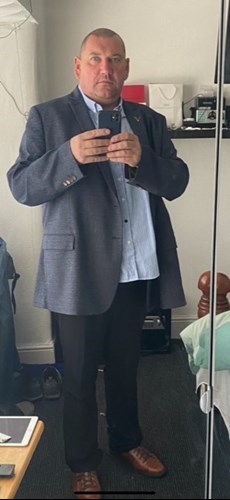 A recent photograph of Mark post-surgery
Mr Alkhaffaf says, "Before surgery, Mark suffered with significant issues related to his weight, including heartburn, back pain and sleep apnoea. After a thorough discussion, he decided that a full gastric bypass was the best way forward as it offered him the highest chance of losing a significant amount of weight and addressing his reflux.
"So far, he has lost 8 stone since his first consultation with me; his reflux has disappeared, and he no longer has sleep apnoea. I am delighted for him."
If you're considering undergoing weight loss treatment or surgery, please visit our bariatrics treatment page.