Want to get fit over the summer? Why not try swimming?
Swimming offers a great all body work out. Did you know that 30 minutes swimming is equivalent to 45 minutes in the gym?
It is a great way to spend time as a family, with friends or on your own with time to clear your mind. It allows you to de-stress and have fun at the same time. Swimming also aids good sleep patterns whilst giving you a good fitness work out all at the same time. A gentle swim will burn around 200 calories in half an hour – twice that of walking!
If you have a niggling injury such as back pain, a sprained ankle or a stiff shoulder you should be able to get in the pool. The buoyancy and support provided by the water allows you to exercise and swim with less stress on your joints and healing injuries.
Swimming can also aid weight loss and each stroke has different levels of calorie burning efficiency and benefits.
Breast stroke – this is the least efficient stroke, burning 200 calories in half an hour, but this stroke is great for toning up your thighs, triceps and pecs. It is the most technical stroke of the four.
Backstroke – this stroke comes in as the third most efficient, with the added benefits being the best at correcting posture, toning the stomach, shoulders and buttocks.
Freestyle - this is second most efficient stroke, burning around 300 calories in 30 minutes.
Butterfly – this is the best all round stroke for general toning and fitness and stretches out the spine and improves posture. This stroke burns 450 calories in 30 minutes, however it is probably the hardest stroke to master as a beginner.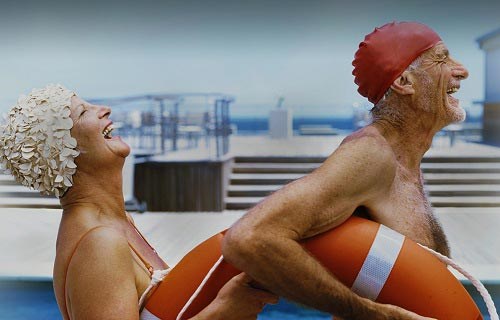 Swimming injuries and prevention tips
Although swimming is a great form of exercise, there are some injuries which it can cause which may be prevented following our tips below.  
Swimmers shoulder - 90% propulsive force comes from the shoulder and the repetitive nature of swimming adds to additional stresses. The shoulder is the most common area to injure. Tips to prevent swimmers shoulder:
Practice breathing to both sides, this helps trunk rotation and stops just overloading one side.
Make sure your hand goes into the water flat not thumb first.
Aim to keep your elbow high with all strokes, this makes the stroke more efficient.
Don't forget to stretch, particularly the pec area and thoracic spine. This is often in need of attention due to driving and desk work which add up to a rounded shoulder posture.
Swimmers knee - This usually occurs with breast stroke because the ligaments on the inside of the knee get put under stress. Tips to prevent swimmers knee:
Ensure you alternate strokes.
Work on getting good quadriceps and hamstring strength, this takes the pressure off the ligaments.
Finally, a good stretching programme should be done both pre and post swim to help reduce the risk of injury.
Written by Helen Waters, Physiotherapist.
For more information about our physiotherapy services, or if you would like to book an appointment to see one of our specialist physiotherapists, please contact us.
Helen Waters is a senior physiotherapist at Spire Manchester Hospital.  For more
information or to book an appointment with Helen, please call 0161 447 6900.
The content of this article is provided for general information only, and should not be treated as a substitute for the professional medical advice of your doctor or other health care professional.