Three family members undergo Mako robotic-assisted hip, knee and partial replacements at Spire Manchester Hospital
Bev Gilston-Hope, 55, her wife Alison, 57, and her mother-in-law all underwent Mako robotic assisted partial, total knee and total hip replacements, performed by Consultant Orthopaedic Surgeon Mr Winston Kim at Spire Manchester Hospital. 
Having struggled with various health issues that plagued their lives on a daily basis, all three ladies decided that enough was enough. Bev recalls that prior to her knee replacement, she struggled with typical daily tasks such as driving and exercising, and through no fault of her own, she was unable to reach her full potential in her role as a lead installation engineer for a national cinema company.
Alison, a nurse, experienced discomfort each day and found that she had to be extremely careful when moving or she would feel excruciating pain. Both ladies had previously enjoyed adventurous treks, but these were sadly no longer realistic. Alison says, "Although co-codamol did help to numb the pain, I didn't want to be reliant on a high strength painkiller every day."
Desperate for help – the research begins
Having reached a point where their pain levels and limited lifestyles were no longer sustainable, Bev and Alison started to look into who could help them from a medical perspective.
After conducting thorough research, they noted that Mr Kim was highly respected and had received fantastic reviews for his knee replacement operations. Bev and Alison were reassured by the consistently positive feedback from Mr Kim's previous patients, and were also pleased to see that he utilises the most innovative techniques and equipment within his practice.
They enquired further about the use of Mako, and were reassured by previous patients' health outcomes – the recovery time was quicker than after undergoing a 'traditional' knee replacement, with longer lasting results too. Bev's operation went ahead on 3 December 2020, before Alison's surgery on 3 February 2021.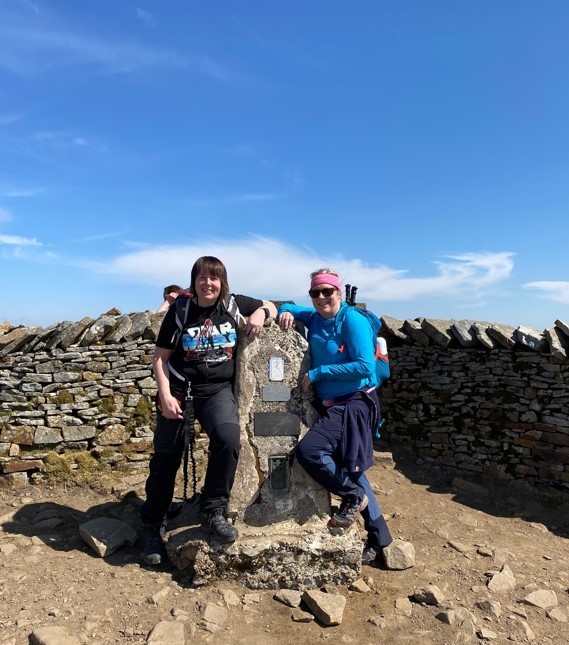 Alison and Bev Gilston-Hope enjoying a hike
A faultless experience with Mr Kim
From the initial consultation, they felt reassured by Mr Kim's expertise and caring manner. Bev says, "The care from Mr Kim was fantastic; we were kept fully informed with regards to every aspect of the process. He is clearly very passionate about his work. During my stay at Spire Manchester, I was impressed by the wider team too, including a fantastic healthcare assistant called Elena."
Echoing Bev's sentiments, Alison says, "The care and attention during my stay was excellent. Speaking as a nurse myself, the day staff couldn't do enough, including nurses, porters, housekeeping and catering staff. Nothing was too much trouble and always done with a smile and a pleasant word.
"Having never been a patient before, I know how important this is, especially when your independence is temporarily on hold and help from others is essential. I cannot praise enough everybody's commitment at Spire Manchester enough."
A quick, seamless recovery and recommendation to a family member
Almost in disbelief when considering the transformation her health has undergone, Bev says, "Before surgery, pain literally impacted every aspect of my life. I love hiking and was frustrated at being able to walk only flat routes, and my career sometimes felt stilted due to my physical limitations.
"When I compare this to life after my Mako knee replacement, the difference is huge. I was walking around with a walker on the first day post-operation, before moving to crutches for two days, then one crutch. After a week at home I was walking unaided; after eight I was hiking some of the Yorkshire Peaks!"
Similarly to Bev, Alison noticed an astounding change in her mobility. Both were so pleased with their results, they recommended Mr Kim to Alison's elderly mother, who has since had a successful Mako hip and knee replacement. They have also passed on Mr Kim's details to a friend suffering with similar knee issues.
For Bev, one of the clearest moments that made her realise just how improved her health came while at work. "I recently installed a new cinema including a Dolby cinema screen – this involved hanging 57 speakers in the ceiling from scaffolding and 60 speakers behind the screen high up on platforms… something I wouldn't have even attempted before my knee replacement!"
Feeling stronger than ever, both women are enjoying a new lease of life and look forward to the future – including reaching new heights during hikes to Scafell Pike, CatBells and many more.
Speaking on the Gilston-Hopes' cases in particular, Mr Kim says, "Alison and Bev are both active, relatively young patients who had severe knee arthritis localised to the inner aspect of their knees.
"Robot-arm assisted partial knee replacement offered a customised surgical plan individualised to their joints and the ability to precisely and accurately implant their partial knee replacement, which is a less major operation than a full knee replacement, resulting in much quicker recovery, less pain and a higher chance of a normal feeling joint after recovery from surgery."
Read more about the use of Mako during innovative joint replacement operations at Spire Manchester Hospital.