National Heart Month: Cardiology patient suffering with heart failure undergoes life-saving treatment at Spire Manchester Hospital
More than one million patients are living with heart failure today. It's crucial to spot the symptoms early and receive the therapy you need. This National Heart Month, we're working to raise awareness about various cardiology-related health issues. 
Beryl, 67, from Stalybridge, had been active throughout her life, and rarely felt the need to visit her GP. However, two years ago, she noticed she was becoming increasingly breathless and tired. Fortunately, she had a routine ECG performed ahead of her upcoming elective breast surgery. Following this, she was immediately referred to Consultant Cardiologist Matthew Kahn at Spire Manchester Hospital and after initial investigations, was diagnosed with heart failure.
Dr Kahn promptly initiated appropriate medication, however Beryl's symptoms initially deteriorated. Following this, Dr Kahn decided to admit Beryl to Spire Manchester Hospital for ongoing treatment, before implanting a biventricular pacemaker to try to help with her heart failure symptoms.
When Beryl was first assessed, it was clear that her heart wasn't pumping well at all. It is likely that she had lived with this condition for quite some time without realising. Now that she is taking the correct medication, along with the fitting of a biventricular pacemaker, Consultant Cardiologist Matthew Kahn is very optimistic about Beryl's future.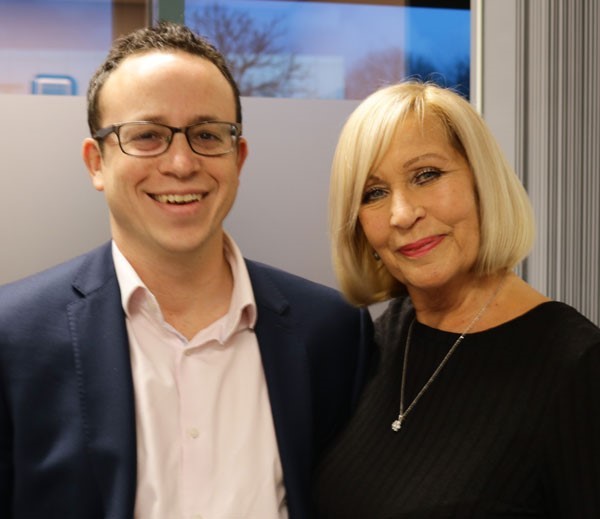 Consultant Cardiologist Matthew Kahn and Beryl
He says, "Beryl had a biventricular pacemaker fitted at Spire Manchester Hospital following her heart failure diagnosis, and has been under my care and that of the cardiology team for almost two years. This type of advanced pacemaker device 're-synchronises' the failing heart. It offers prognostic and symptomatic benefit and Beryl continues to lead a healthy lifestyle thanks to the pacemaker. 
"It also allows the cardiology team at Spire Manchester Hospital to monitor her without her having to attend hospital consultations, which means that I can keep a close eye on Beryl's heart failure in the long term."
Outstanding care
Beryl says, "I wasn't aware of the signs of heart failure until I was diagnosed, and I would urge anyone experiencing breathlessness, pain and pressure in the chest, loss of appetite and excess fluid to see their GP or a cardiologist."
"The care I received at Spire Manchester Hospital was outstanding – I went from a dark place to seeing light at the end of the tunnel. I can't thank everyone enough – Dr Kahn, the cardiac nurses Jane and Steph, and the critical care team were all fantastic and kept my spirits high!"
Two years later – travelling and enjoying life
"My pacemaker has given me my life back – I'm now able to travel again and enjoy quality time with my husband, daughters and grandchildren.
Visit Spire Manchester Hospital's cardiology services for more information.