Spire Manchester Hospital teams up with Lancashire County Cricket Club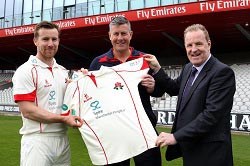 We are delighted to announce that we will be Lancashire County Cricket Club's Official Healthcare Partner and will sponsor their Specsavers County Championship kit for 2016 and 2017.
LCCC's return to the top flight of the Specsavers County Championship will see them wear the Spire Manchester Hospital logo on their shirts for the next two seasons. There is a notable synergy between Spire, LCCC and Emirates Old Trafford and shared values of quality, excellence and succeeding as a team. We are delighted to be working with LCCC, its supporters and the people of the Greater Manchester area and further afield.
"Becoming LCCC's official healthcare partner is the perfect alliance for us", says Chris Chadwick, hospital director at Spire Manchester. "We're dedicated to providing a high quality healthcare service, and as the team at LCCC know very well, being in peak fitness is vital in the sports industry. From our first meeting with LCCC and their Medical Services Provider, David Roberts Physiotherapy, we knew this would be a strong collaboration and we look forward to supporting the team in the seasons ahead."
Ashley Giles, Lancashire Head Coach and Cricket Director, adds: "We are really looking forward to a successful partnership with Spire Manchester Hospital. As a professional sports club, healthcare is especially important to us and we are pleased that our Medical Services Provider, David Roberts Physiotherapy, will be supported by their expertise and facilities."