Spire Parkway Hospital receives National Joint Registry Award
Spire Parkway Hospital has received a top patient safety award from health watchdogs the National Joint Registry (NJR).
The hospital has been named an NJR Quality Data Provider after successfully completing a year-long national programme of local audits.
And while everyone at the hospital is delighted with the accolade, it is regarded as 'extra-special' by administrator Taylor Billings – as part of a huge team effort, she played a big part in ensuring every operation was recorded and correctly submitted to the NJR's database for the 2018/19 data.
The NJR monitors the performance of hip, knee, ankle, elbow and shoulder joint replacement operations in order to improve clinical outcomes. This then provides evidence to support patient safety, standards in quality of care, and overall effectiveness in joint replacement surgery.
Taylor explained: "Every joint replacement has to be submitted correctly and it is my job to ensure none of them slip through the net. I see it as a matter of pride that we capture all the data necessary to help the NJR, and winning the award shows we are hitting our targets and getting things right."
The NJR Quality Data Provider certificate scheme was introduced to offer hospitals a blueprint for reaching high quality standards relating to patient safety and reward those who have met registry targets in this area.
It investigates the accurate number of joint replacement procedures submitted to the registry compared to the number carried out and recorded in the local hospital's Patient Administration System. This ensures that the NJR is collecting and reporting upon the most complete and accurate data possible.
NJR targets also include having a high level of patients consenting to their details being included on the registry and for demonstrating timely responses to any alerts issued by the NJR in relation to potential patient safety concerns, if necessary.
At Spire Parkway, Hospital Director, Charlotte Swami said: "Improving patient safety is of the upmost importance, and something all staff prioritise. We fully support the NJR's work and are proud to receive this award.
"I really can't speak highly enough of the work done by the team in making sure we hit these targets. It isn't an easy task but Taylor and the team do it with enthusiasm and a smile on their face."
With data for 2019/2020 now being uploaded, the team are hoping for yet another award!
"It's a real team effort and we're all working hard to get the next lot of data accurately recorded" said Taylor.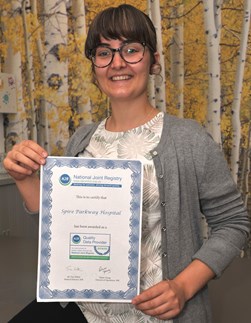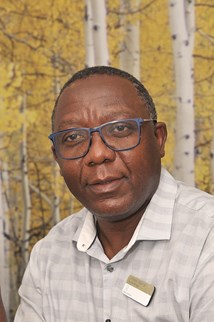 Taylor and the NJR Certificate                Theatre Manager: Kennedy Kaonga
National Joint Registry Medical Director, Mr Tim Wilton, said: "Registry data now provides an important source of evidence for regulators, such as the Care Quality Commission (CQC), to inform their judgements about services, as well as being a fundamental driver to inform improved quality of care for patients."
Full details about the NJR's Quality Data Provider certificate scheme can be found online at: www.njrcentre.org.uk.