Knee replacements – which one is right for you?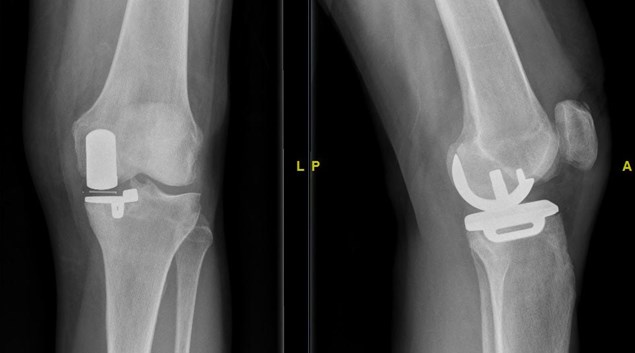 A recent report from researchers at Oxford University looked at knee replacements carried out in England and Wales in 2016.
The report said that of the 100,000 knee replacements carried out in that year nine out of ten were total replacements.
But researchers suggested that up to half of those receiving a new knee joint could have been better served by a partial rather than total replacement.
Published in the Journal BMJOpen, the report said that about half of patients with worn out or damaged joints, typically aged between 60 to 80, would have been suitable for a partial replacement which, researchers say, may result in more natural movement and allows people to be more active.
However NHS England said that partial replacements were 'not suitable for all patients'.
Mr Benjamin Bloch, a Consultant Orthopaedic Surgeon specialising in hip and knee replacements at Spire Nottingham Hospital takes a look at the subject and answers ten important questions.
1. What is the difference between total and partial?
In a total replacement, the whole of the knee joint is resurfaced. The end of the femur (thigh bone) and top of the tibia (shin bone) are replaced with metal with a polyethylene bearing between them to act as the new 'cartilage'.
A partial replacement only resurfaces the worn compartment of the knee, typically the inner part, and is therefore a smaller operation with potentially a quicker recovery.
2. When would a partial be the best option?
A partial replacement is particularly suitable for someone who has only worn out the inside part of their knee and has not damaged their anterior cruciate ligament (ACL). It is particularly effective in those who are active, as the intact ACL means that the knee function feels more "normal".
3. But would that mean people having to be operated on at an earlier age – ie before the knee becomes too worn?
There is no "right" age for a joint replacement. It is firstly a pain-relieving operation and secondarily to improve your function. Clearly if the whole knee is worn out, then a partial knee replacement is no longer a suitable option.
Partial knee replacements are ideal for younger patients, but they are also a very good option in the elderly as well.
4. So are you suggesting that patients should report knee pain as soon as they start to feel it rather than, as tends to happen at the moment, when it is giving them so much pain it is affecting their lifestyles?
The ideal time to think about any type of joint replacement surgery is when it is affecting your life and stopping you being as active as you want. A rough rule of thumb is that when you have pain at night and would struggle to walk more than a mile without discomfort, then you are likely to benefit from surgery.
5. How long should a partial replacement last and can it be replaced in future by a total replacement?
Data on all types of joint replacements are collected by the National Joint Registry which shows that over 90% of partial replacements should last at least ten years. If they wear out or loosen then they can usually be exchanged for a standard total knee replacement.
6. What results can a partial replacement patient expect?
You would be in hospital for a couple of days, and although you can put all your weight through the knee straightaway, you will usually have two crutches for a couple of weeks and then one crutch for a further two weeks.
You should be able to return to driving when you can safely perform an emergency stop (4-6 weeks), and be back at work between 6 and 12 weeks, depending on your job.
7. Are there times when a total replacement is the only answer and, if so, why?
If the arthritis within your knee affects more than one part of the knee, or you have injured your ACL, then you will not be suitable for a partial knee replacement. In this case a total knee replacement would be recommended.
8. Despite the research saying partial may allow more natural movement etc is there actually anything wrong with a total replacement?
A total knee replacement is a very effective operation, in fact one of the most successful procedures currently available.
While partial knee replacements may have a slightly quicker recovery and lower complication rates, modern total knee replacements are very safe and very effective. Partial replacements do also have a slightly higher failure rate compared to total replacements. A total knee replacement has a greater than 95% chance of still working well at 10 years.
9. Do you think the demand for partial replacements will grow in the next few years and, if so, to what sort of degree?
There has been a steady growth in partial knee replacements, and currently about 10% of all replacements are partial. I think that this growth will continue, but that partial replacements will in future be done by surgeons with an interest in this area. There is evidence that surgeons who perform more than 20 partial knee replacements a year have better outcomes.
10. As for the future, what is the main type of knee surgery you see evolving in the next decade?
There is a lot of interest in new cartilage repair and regeneration techniques which will probably become more advanced over the next few years.
Despite this, there will always be a need for joint replacement surgery, and new knee replacement designs (both total and partial) such as those used at Spire Nottingham Hospital have also demonstrated improved outcomes and swifter recovery when compared to more historical implants.
---
Mr Ben Bloch holds regular clinics at Spire Nottingham Hospital in which he treats patients for a number bone and joint problems. He performs a large number of hip and knee replacements and has an interest in treatments suitable for the younger patient including cartilage regeneration techniques, knee osteotomy, unicompartmental knee replacement and patello-femoral joint replacements.
If you would like more information or would like to book a consultation with Mr Bloch call our Bookings team on 0115 937 7801 or enquire here.