Knee pain, what causes it? Mr Ben Bloch answers the FAQs
What causes knee pain?
There are many causes, including:
Arthritis – the most common cause of arthritis is osteoarthritis, often referred to as "wear and tear" of the knee. This occurs when the smooth cartilage that covers the joints becomes worn, leaving exposed bone.
Soft tissue injuries – the knee is supported by complex soft tissue structures including ligaments (cruciate ligaments; ACL & PCL and collateral ligaments; MCL & LCL) and the meniscus cartilages act as "shock absorbers" within the knee. These soft tissues can be injured, particularly with sporting injuries.
Articular cartilage injuries – the smooth cartilage covering the joints can also be damaged as a result of injury. This tends to affect younger and more active patients.
What are the symptoms of knee arthritis?
Arthritis is a degenerative condition that gets gradually worse with time. It tends to start as pain on or after activity. Eventually it develops into pain at rest and can affect your sleep. The knee can become stiffer, making it more difficult to carry out daily activities. In advanced cases your knee may no longer fully straighten or you may become more bow-legged or knock-kneed.
What treatments are available for arthritis?
Before considering surgery, there are a variety of non-operative measures that should be tried, including:
Painkillers – start with simple painkillers such as Paracetamol, Ibuprofen or anti-inflammatory gel. There is some evidence that Glucosamine Sulphate 1.5g daily may slow the development of arthritis. If these are not controlling the pain, you should consult your GP.
Physiotherapy – Keeping the joint supple and the surrounding muscles strong will help with knee pain. Visit https://www.spirehealthcare.com/spire-nottingham-hospital/treatments/spire-nottingham-physio/
Weight loss – Between three and seven times your body weight is transmitted through the knee, depending on the activity being carried out. If you are carrying excess weight, losing weight will improve symptoms, and will make you fitter to undergo surgery if required.
Walking aids – a stick in the opposite hand will help to off-load the knee and reduce the pain from your knee
What surgical options are available for arthritis?
Arthroscopy (keyhole surgery), can also be used to treat injuries to the articular cartilage
Partial knee replacement is an excellent option when only one part of the knee joint is worn. It generally has a quicker recovery time and a more natural feel than a total knee replacement, but there is a slightly higher rate of revision (re-do knee surgery) than with total knee replacements
Total knee replacement involves resurfacing the whole of the knee joint. It is a very successful operation that significantly improves pain and movement in the vast majority of patients
What does a knee replacement operation involve and how long do they last?
Knee replacement is carried out through a cut on the front of the knee. The operation takes less than one hour and patients can usually go home between two and four days, once comfortable and able to get around with crutches. Usually the incision is closed with a dissolvable stitch and skin glue and covered with a waterproof dressing so you can shower. The dressing is removed after two weeks.
Modern knee replacements should be expected to last a long time. Approximately 95% of total knee replacements and 90% of partial knee replacements are still functioning well at 10 years, with 80% lasting 20 years.
Are there any risks with knee replacements?
All operations carry a level of risk. All surgical risks will be explained in detail by your consultant prior to any procedure taking place.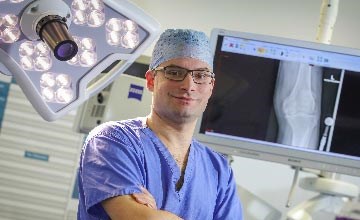 Mr Ben Bloch will be happy to see you at Spire Nottingham Hospital. A private consultation with him costs £190 if you don't have private health insurance. To book an appointment, call our Bookings Team on 0115 937 7735.
Thank you for your enquiry. A member of the team will be in contact soon. Kind regards Spire Nottingham Hospital