John Brazel is a very active 66 year old, who has played county league squash since his early 20's and continues to play 4 days a week. For the last 10 years he's also been an avid skier and snowboarder, as well as taking part in regular hikes in the Lake District.
But in 2019, he began suffering from pain and mobility problems. His groin started to ache after walking a few miles and he began experiencing spasms in his hip whilst on the squash court.
"I had initially put the symptoms down to just muscle strain and age, but hearing good reviews of Spire Cheshire and Mr Pradhan in particular, I decided to get it checked out towards the end of 2019. I expected it to be a minor ailment and for him to tell me it was nothing to worry about." John explained.
Mr Pradhan, Consultant Orthopaedic Surgeon practising at Spire Cheshire hospital, diagnosed John with osteoarthritis of the hip joint, which is a common condition in men and women over the age of 40.
"Mr Pradhan was very professional and crystal clear in the consultation, but I was totally shocked when he advised that the only solution was to have a hip replacement. As a sportsman my whole life revolves around athletic activity, so I instantly thought this was the worst thing possible and that it would put an end to all the sporting activities that I loved."
Mr Pradhan explained to John that he could see no reason why he wouldn't be able to get back to normal, if he followed a thorough rehabilitation path.
John continued: "He said the decision to have surgery was ultimately up to me, but he was reassuring that he thought it would be the best course of action. I came back from a snowboarding trip in February 2020 and booked the surgery for later on that month."
Mr Pradhan then performed a minimally invasive (SPAIRE) technique total hip replacement on John. SPAIRE is a tendon saving surgical technique for hip replacements which can offer a faster recovery and enhanced stability to patients.
The technique allows fewer tendons to be damaged and there are no post-operative restrictions. Patients are immediately encouraged to exercise the hip through a full range of movement – resulting in restoration of hip function and enhanced stability.
John was back home two days after the surgery, and had stopped using his crutches within a week. Within a month he was undertaking a 4k walk and was back on the squash court; and by his second month of recovery he was walking up to 15k, as well as practising yoga.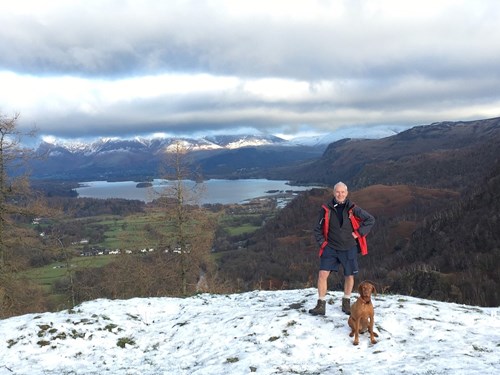 "Due to the pandemic, the gyms and squash courts were closed, but when they opened again in August I was back on the court and playing squash three or four times a week, as well as tennis. The guys I play with would definitely agree that I'm back playing as competitively and at the same level as I was pre-surgery – but only now, I'm pain free!
"The absence of pain, increased mobility, and the recovery time has all been amazing, and was even better than Mr Pradhan predicted. I would definitely say as an active individual to go for a hip replacement procedure takes a massive leap of faith – but one that I am so glad I took when I did."
Mr Pradhan commented, "The total hip replacement was the best course of action, and thankfully it enabled John to continue all of his sports and athletic activity. He was totally committed to his rehabilitation and physiotherapy and I am glad that he is now back to enjoying his life to the fullest."