Spire Cheshire unveils new £1.7m MRI scanner
Warrington Wolves star Ryan Atkins and club mascot Wolfie were special guests at the opening of a new £1.7m MRI scanner at Spire Cheshire Hospital.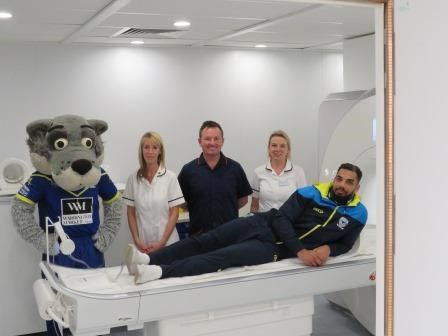 The Siemens Aera 1.5 T MRI will produce high resolution images that will allow quicker and more accurate diagnoses.
It will also prove a more comfortable experience for heavier patients as well as those suffering from claustrophobia as the 'tunnel' into the scanner is 10cm larger than on a conventional model.
Scans will help detect neurological conditions, cancers, degenerative conditions, and orthopaedic conditions such as arthritic hips or knees.
It will also provide detailed images of bones, joints and soft tissues such as cartilage, muscles and tendons – making it very useful when diagnosing sporting injuries.
Hospital Director Andrew Johnson said: "This new scanner puts us at the cutting edge of medical imaging and we are very proud to have it in the hospital.
"I hope it shows our commitment to providing our local community with a first class healthcare service here at Spire Cheshire. The scanner has already attracted some very complimentary comments from many of our surgeons and I am sure our patients will be equally impressed when they come to use the facility."