New phone app is like having a physiotherapist in your own home
A new smartphone app - described by the inventor as 'a physiotherapist in your living room' - is being trialled at a Kent hospital.
The app allows a physio to prescribe a series of exercises and then chart your progress as your phone relays your workout data back to their computer.
By a remarkable coincidence the consultant surgeon behind the idea is also one of the first to be putting it to the test after he fell off his bicycle and broke his elbow!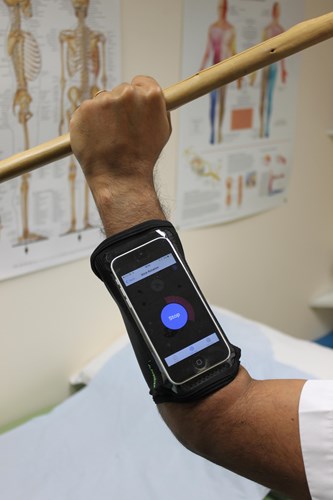 Professor Rahul Kanegaonkar, an ENT Consultant Surgeon at Spire Alexandra Hospital in Chatham, designed the app when he discovered how many patients we failing to do there full physio programme.
He explained: "I was quite surprised when I heard how many patients were just not completing their physio courses but, after giving it some thought, I could see many reasons why this might happen.
"For a start, once you leave the physio 'you're on your own'! There's no-one checking up on you when you get home and, to put it bluntly, it's easy to cheat!
"With this app it's almost like taking the physiotherapist home with you! Once you have strapped your smartphone to your arm, I use a jogging pouch, then all your exercises can be seen and analysed.
"Your physio will be able to keep an eye on the work you are doing and the beauty of this app is that they can change your exercises whenever they think it necessary.
"This means you reach your recovery target quicker but also it takes away the need for regular visits to your physiotherapist saving you time and travel costs."
Orthopaedic surgeon Professor Amit Tolat, who treated Prof Kanegaonkar's broken elbow, is now helping to monitor the trials.
He said: "Early results are promising and I feel it could be a major boost to the physiotherapy department at Spire Alexandra and, indeed, many other hospitals".
Physiotherapist Fatimah Parkar added: "I have been working with Professor Kanegaonkar for three weeks and it is amazing how I can actually see his progress in graphs from week one to week three.
"I can also keep track of his progress and see where improvements or changes are required. It also ensures that I can see that he is also doing all of his exercises – and doing them correctly."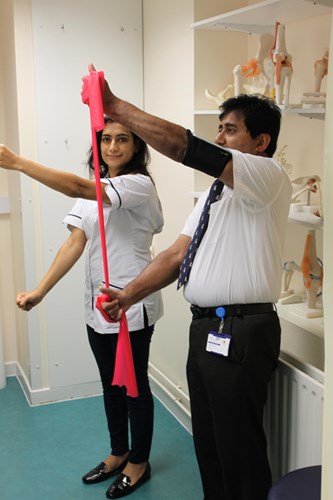 Once trails are completed it is hoped the app will be put to regular use by physiotherapists at the hospital.
"It will certainly make the work we do even more effective and I am confident it will lead to quicker recovery times for many of our patients," said Fatimah.
Prof Kanegaonkar is no stranger to creating medical  equipment after already inventing bacterial/viral filter for anaesthetic machines, a clip device to treat nosebleeds and a pair of glasses that gives deaf people real time subtitles - the clever bit is that only the wearer can see the text and the glasses look normal.
He is also the brains behind an App that measures postural sway (the ability to be able to balance correctly) and an operation for cholesteatoma patients (a chronic infection in the mastoid bone behind the ear). Standard surgery usually leaves the patient with no functional hearing whereas Prof Kanegaonkar's procedure leaves hearing virtually intact.