Spire Alexandra Hospital supports Medway Medical Fayre to encourage children in the local community to consider careers in medicine
Spire Alexandra Hospital supported consultant colleagues at this years' Medway medical fayre, with staff on-hand to assist in mock A&E scenarios and provide materials for students to enhance their learning experience.
Held at the Medway Campus of Canterbury Christchurch University, the yearly medical fayre, led by specialist consultants and medical professionals, teaches young and aspiring students about careers in medicine and enables them to experience real life scenarios faced in busy NHS A&E environments.
During the free event which was attended by 11 schools across Medway and Kent – including Medway Victory Sea Cadets and Royal Marines, New Line Learning Academy and Hartsdown Academy – students were taught about different medical specialities and conditions.
Opened by Professor Rahul Kanegaonkar students were empowered to ask questions and encouraged to take part in busy mock A&E scenarios where they participated in diagnosing and treating the patients. Students were also able to practice on simulation equipment used by junior surgeons in training.  The learning didn't end there, with students being taught the applied physics behind radiology tests and discussing current positive public-health messages.
Lee Aldridge, Hospital Director, commented: "Working with the local community is extremely important to Spire Alexandra Hospital and we are glad to support our consultant colleagues who are hosting this event for local schools within Medway and Kent.
Medical fayres as such empower the younger generation to explore real life scenarios using the specialist equipment medical professionals' use on a day-to-day basis. At Spire Alexandra Hospital we see this opportunity as invaluable. It not only inspires future generations, but also demonstrates the importance of exploring a variety of different medical careers."
Professor Rahul Kanegaonkar, a Consultant Ear, Nose and Throat Surgeon specialising in hearing loss, tinnitus, dizziness and Vertigo, at Spire Healthcare, said: "The Medway medical fayre held at the Medway Campus of Canterbury Christchurch University aims to encourage children from all backgrounds to consider careers in Medicine and Medically related professions.
We are grateful to the Spire Alexandra Hospital for their support with our event this year, providing material and staff to facilitate the free event."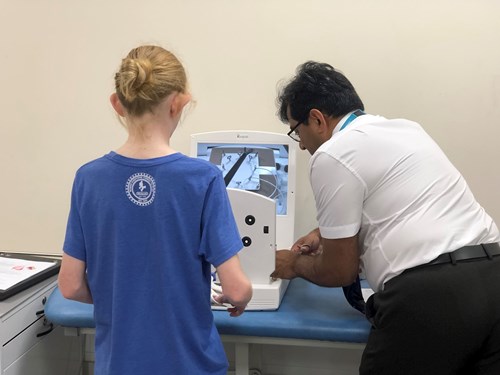 Nigel Knight, Outreach and Careers Coordinator at Hartsdown Academy, added: "The opportunity to give a dozen of our students, who have expressed an interest in a medical career, a day to explore different specialities using trainee simulation equipment has been insightful and instrumental to our students learning.
From A&E and orthopaedics to genetics and the heart, the sessions were interactive and broke down assumptions of medical professionals. My students came away talking about how 'cool' the medical professionals were and how inspiring medical professionals are.
I cannot thank Professor Kanegaonkar and the team enough who hosted this event, the opportunity for students at Hartsdown has been both touching and encouraging."
Dr Sue Plummer, Director of the Institute of Medical Sciences and Campus Director at Medway Canterbury Christ Church University, commented: "This is the fifth year we have run the medical fayre at our facilities at the campus, and I couldn't think of a better day to showcase careers in medicine than the 75th Anniversary of the NHS.
We are grateful to Spire Healthcare for sponsoring and getting involved in the sessions throughout the day."