Peter enjoys a new lease of life with cochlear ear implant
Totally deaf in one ear and losing function in the other, retired sales director Peter Allen feared he faced a life of total silence as conventional hearing aids became less and less effective.
But a cochlear implant in the inner part of the ear converting sound into electronic signals, has turned up the volume in 62 year old Peter's life, giving a massive boost to not only his hearing, but his confidence.
After years of avoiding social occasions due to difficulty communicating because of his hearing problems, Peter of Radcliffe-on-Trent, is enjoying life again and looking for love.
"Meeting people, even good friends, in pubs or restaurants proved very difficult as background noise meant I couldn't take part in conversations. I started to exclude myself from such events and it is remarkable how quickly you lose your confidence in social situations. Now, with my hearing so massively improved, I'm beginning to really enjoy my social life again and I would love to find someone to enjoy it with me." Peter said.
A retired Sales Director with a local freight company, Peter was fitted with the cochlear implant by Consultant ENT Surgeon, Professor Douglas Hartley at Spire Nottingham Hospital.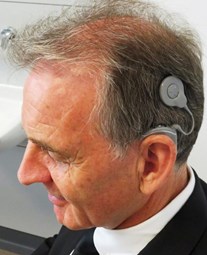 "Cochlear implants bypass the damaged cells in the hearing system and convert speech and environmental sounds into electrical signals, which are then directed to the hearing nerve. An incision is made behind the ear to open the mastoid bone leading to the middle ear space. Once the middle ear space is exposed, an opening is made in the cochlea and the implant electrodes are inserted. The implant then receives sound through an external device worn just above the patient's ear," explained Professor Hartley.
The first cochlear implant surgery was carried out in 1982 and there are currently around 12,000 people in the UK using them.
According to Professor Hartley, implants are continuing to improve, particularly when applied to 'noisy' situations where conversation could, in the past, have been drowned out by residual background noise.
He said that Peter's implant surgery went smoothly and only took around 90 minutes, meaning he could go home on the same day. After healing well, Peter's device was switched on just two weeks after his operation.
Peter has suffered hearing problems for the last 14 years after a routine operation to remove an abnormal bone growth from inside his ear didn't work out as expected.
Peter said "The operation had a very low failure rate but it seems I was just unlucky. Unfortunately the result was I lost all hearing in the left ear. If I developed an infection in my other ear, which did happen at times, I could be virtually without sound for weeks. It made it difficult to communicate, do my job or get on with my life in many other ways."
"Now my hearing is improving on a daily basis, I have an app that directs sound from my television and telephone directly to my implant. I can also go swimming, which is something I love, without having any negative impact on the device.
"My life really has changed for the better and I am hoping the new, more confident me can find someone to share it with!"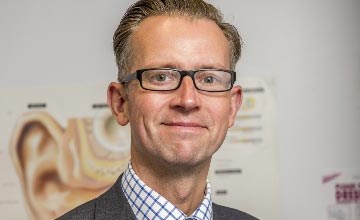 Professor Douglas Hartley is available at Spire Nottingham Hospital every Thursday morning. A private consultation costs £200 if you don't have health insurance. To book an appointment call our Bookings team on 0115 937 7735.
Professor Douglas Hartley
ENT
Thank you for your enquiry. A member of the team will be in touch soon. Kind regards Spire Nottingham Hospital