Birthday celebrations after show-stopping first year
Nottingham's newest hospital celebrated its first birthday after a year containing "success, excitement and the steepest learning curve ever known!"
Spire Nottingham, built at a cost of almost £60m at the side of the city's Tollerton Airport, welcomed its first surgical patient in April 2017. Since then hundreds of procedures have been carried out both privately and under the NHS e-referral scheme.
Looking back at the last 12 months, Hospital Director Will Pressley said it had been a little bit of a roller-coaster ride but that it was "full steam ahead" for the coming year.
"Nothing will ever really prepare you for opening a brand new hospital," he said. "Just when you think all bases are covered something crops up that no-one was expecting. Fortunately we have been able to handle everything that has been thrown at us but it really has been the steepest learning curve I have ever known."
The 58-bed hospital containing five theatres along with the latest in MRI scanning and robotic imaging technology, has already attracted the services of many of the region's top consultants and patients from around Nottinghamshire and throughout the East Midlands.
"We have so much to offer, from theatres equipped with the very latest technology to patient bedrooms that would not be out of place in a five star hotel! Visitors really have been taken back by how good the hospital looks and the facilities we have here," said Mr Pressley.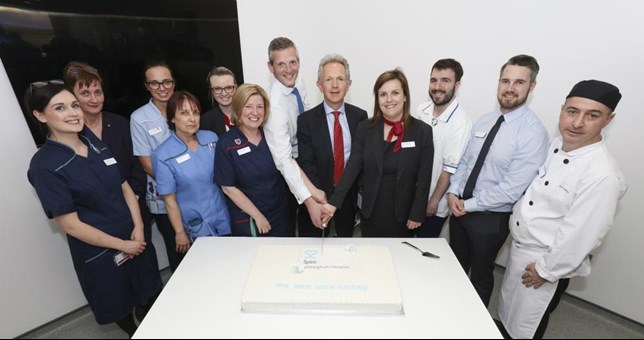 One particular 'show-stopper' is the hybrid theatre containing the Siemens Artis Zeego. This provides unique robotic technology offering the very latest in imaging capability to help surgeons in areas including heart operations, cancer treatments, joint replacements and spinal surgery.
At a cost of £1.5m, the Siemens system makes it easier than ever to view internal organs from various sides – which can be crucial in diagnosing or ruling out tumours or vascular diseases.
An electronically adjustable patient table also allows a variable working height and angle, with the patient being raised, lowered and even turned into the optimal position for whichever procedure is necessary while rotating cameras can capture razor-sharp 3D images for anywhere in the body.
"I have watched surgeons in this hybrid theatre and it honestly makes me proud to be in charge of a hospital than can offer something like this. In my opinion it really is the best of its kind available in the world today," said Mr Pressley.
The hospital will be marked its first birthday with a series of informal events involving staff, patients and consultants as Mr Pressley stressed that the coming years and not the one that has just passed is what he wants everyone to really be concentrating on.
"It has been a successful and exciting year but our work has really only just begun. I want to see Spire Nottingham established as a very important part of the region's healthcare service, providing the best care available to people in this region."