Tracey riding high after spine surgery success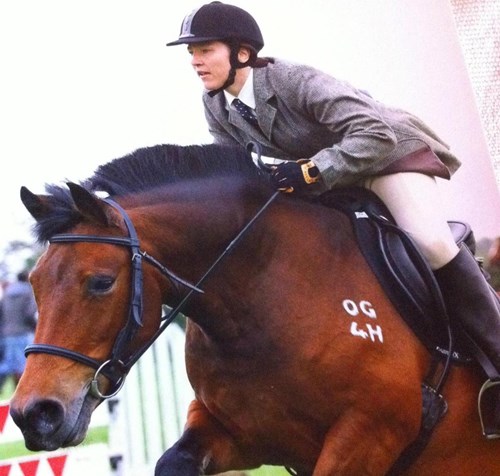 Horse lover and office worker Tracey Watson has set herself two goals following complicated spinal surgery – to get back in the saddle and away from a desk!
Forty-nine-year-old Tracey, who lives in Kettering with partner David Goodjohn and their two children, has been riding horses for over 40 years and is a long-serving member of the Rockingham Forest Riding Club.
But a fall in her home a couple of years ago sparked up a 22-year-old riding injury and within a week she was in extreme pain, unable to stand for longer than two minutes and, of course, unable to ride.
"The pain was terrible but what hurt most was that I had just bought a new horse – Dylan - and my riding was going really well – we'd even manged to win rosettes at a couple of local shows," she explained.
As the pain increased Tracey met with her local spinal surgeons and was then referred onto Mr Nasir Quraishi, a Consultant Orthopaedic Spinal Surgeon at Spire Nottingham Hospital, who suggested targeted steroid injections as the best way to start treatment.
He explained: "Targeted injections can often be enough to rid the patient of the pain and delay the need for surgery, in some cases for several years.
"The first injection got Tracey back on her feet so, when the the effects began to wear off after about eight months, I decided it was worth trying another.
"When that didn't provide the same relief and having exhausted other pain medications, I knew that revision surgery would be our best option. Tracey had had a lumbar fusion performed 22 years ago, so with revision surgery, some of this had to be re-done.
"She had a Grade 3 spondylolisthesis. This is where one spinal vertebra slips forwards on top of the one below – it is not a slipped disc and the treatment necessary is very different.
"We used computer-guided navigation technology as we inserted a number of titanium screws into her spine to hold the vertebra in place, allowing this vertebral segment to be stabilised.
"The computer-guided technology increases our accuracy to as high as 98% - which is particularly helpful in complicated revision cases where parts of the spine might have previously been fused - that is two or more vertebra joined together to form a single structure – in a previous operation.
"We were then able to revise the decompression of the nerves (free the nerves) safely in the presence of some significant scarring from her previous surgery, and insert a cage into the disc space to provide further stability and aid fusion. Finally, the screws were connected with titanium rods.
"The operation went very well and I am very pleased with the progress Tracey has made – I'm sure she'll be back in the saddle before too long."
As for Tracey, she has set herself a summer target of being back in competition with Dylan but she also has her eyes on another prize.
She said: "I was recently made redundant after 23 years with the same company so now I'm looking for a complete change of occupation – something away from a desk and office environment.
"I really want a job where I am up and about and helping people – I'm not quite recovered enough to take up a new job yet but once I am I want it to be a complete change to what I've being used to – I love a challenge and that's what I'm looking for."
For more information on any of the treatments in this article or for an appointment at Spire Nottingham Hospital call 0115 937 7801.