I went for a breast reduction and discovered I had cancer
Annette Cooper was so fed up of her 46DD breasts that she finally decided to pay to have them made smaller – it was a decision that probably saved her life!
She was delighted with the results, following an operation at Spire Methley Park carried out by Consultant Plastic Surgeon Mr George Spyrou, where her 'troublesome bust' was reduced to a much more comfortable 40C.
But when she returned to the hospital for a routine check-up she was met with some staggering news. As usual, Mr Spyrou had sent a sample of her breast tissue to be routinely tested only to find it contained cancer.
"I was stunned. I didn't have any symptoms and I had been carrying out self-checks on a regular basis, in fact a month before the reduction surgery I had actually had a mammogram which didn't show up any problems," said Annette.
She then faced more surgery – this time to remove her breast and cancer-infected lymph nodes in her armpit.
"It was a major operation but everything went well and my tests continue to show 'all clear'," said Annette. "I can't believe I have complained and suffered from the size of my bust for so many years yet it was only when I decided to have them reduced that my cancer was spotted. Having the operation probably saved my life!"
Mr Spyrou said that it was usual practice to send a sample for testing but added that it was the first time in his experience that one had been cancerous.
"As soon as I received the results I contacted the patient and invited her to the hospital where I had to explain what was happening and various medical decisions she would have to take. In a strange way Mrs Cooper was lucky she chose to have the breast reduction operation when she did otherwise the cancer could have gone undiagnosed for months and maybe more.
"I would only add that breast reduction is not only a cosmetic procedure and does not only reduce the breast size - it is also a procedure that reduces the chances of the individual developing breast cancer because it reduces the amount of breast tissue present.
"Not enough women are aware of this and I think it is a good idea to make this information better known," said Mr Spyrou.
"I was very lucky," said Annette. "That is why I support anything that encourages women to check their breasts correctly and regularly. In my case it appears there were no symptoms and the cancer was 'in hiding' when I had my mammogram so things could have been much worse if it hadn't been for Mr Spyrou sending tissue to be tested.
"He has been fantastic throughout all this and I will always be grateful to him."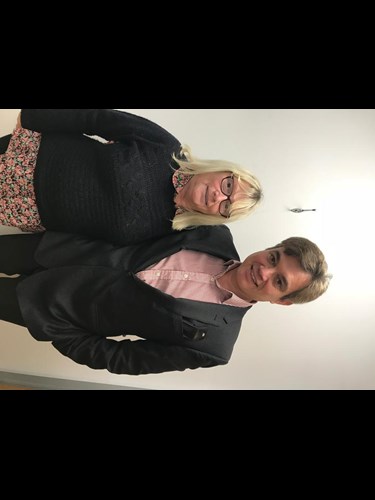 The content of this article is provided for general information only, and should not be treated as a substitute for the professional medical advice of your doctor or other health care professional.