Spire Manchester Hospital brings home CAP Gold for housekeeping at its first assessment
As a brand-new participant in the Continuous Advancement Programme (CAP), the Spire Manchester Hospital has achieved a rare feat in going straight to the top by securing a truly prestigious CAP Gold Award for its housekeeping provision.
The Hospital submitted its housekeeping to intense scrutiny by choosing to aim for the Gold level, knowing that the assessment visit by the CAP inspection team would therefore be unannounced at any time within a three-month period. That eliminates the opportunity to prepare. The inspection took place on 5th September.
Spire Manchester Hospital was recently categorised by the CQC as 'Outstanding'. Hospital Director Andrew Eadsforth commended the contribution of the housekeepers, saying: "We felt that we had a great team, and this is fantastic recognition for them and the service that they are delivering. Another celebration for the quality being delivered by the Hospital!"
CAP Chief Assessor, Ian Jackson added special praise in light of the inspection circumstances. "Given that the team was helping in the opening of a new medical facility, to then deliver to Gold level within the CAP assessment visit was certainly impressive," he noted.
About CAP Awards
The Continuous Advancement Programme is a 12-month progressive development scheme for housekeeping/cleaning and catering services in the Healthcare and Education sectors, ensuring positive development and recognition for teams and individuals who are consistently performing exceptional work behind the scenes.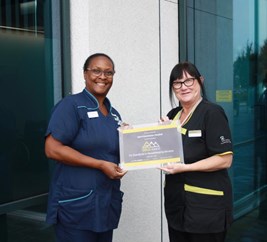 (L) Hopelyn McIntosh, Infection Prevention and Control Lead 
(R) Julie Barrett, Housekeeping Manager