Bowel cancer patient receives the all clear after surgery at Spire Manchester Hospital
Head of the England Women's Cricket Performance Programme, John Stanworth, 60, from Oldham, was treated by Mr Nicholas Stylianides at Spire Manchester Hospital after receiving a shock bowel cancer diagnosis.
Until February 2019, John had suffered with very few health issues. When he noticed some blood in his stools, he quickly booked an appointment with his GP. After inconclusive tests, John underwent a colonoscopy in April 2019 and received the unfortunate news that he had bowel cancer. 
John was told that he would need to see a surgeon later that day. After looking on the internet for statistics and symptoms, he found himself thinking the worst. However, meeting with his consultant Mr Stylianides, Consultant Colorectal Surgeon, eased his concerns significantly.
Meeting Mr Stylianides
John was reassured by his consultant that health statistics provided by some websites can often be outdated or incorrect, and that current treatment is developing at a pace, as is patients' recovery.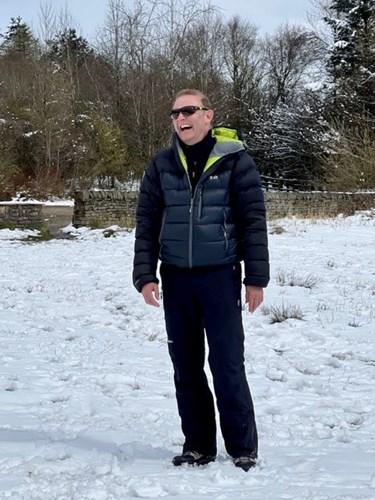 John's cancer was assessed with CT and MRI scans, along with a biopsy. Mr Stylianides' compassionate and diligent manner alleviated John's stress, and together they discussed treatment plans. John says, "When we mapped out the likely next stages, I was given an entirely different perspective. I decided there and then to be pragmatic. 
"I got myself as fit as I could; perhaps that was my default from my cricket playing days. I started power walking and lifting light weights, as well as improving my diet. My mind set was transformed. 

"I can't deny that the journey involved a roller coaster of emotions, but having the best possible medical support and insight allowed me to deal with it better and not dwell." 
A brighter future ahead
John underwent surgery on 13 May 2019. After convalescing from his operation, he went on to have chemotherapy, and has incredibly has made a full recovery, even returning to his full time job of coaching the England women's cricket team.
Less than a year after his invasive surgery, one of John's travel dreams came true as he flew to the Maldives for a scuba diving trip. 
Reflecting on his experience at Spire Manchester with Mr Stylianides, and his journey to better health, John says, "From the moment I entered the hospital, the environment felt I was being given the gold standard of treatment.
"I was listened to and cared for but it was so much more than that - it was a significant part of my early recovery.  I know that without Nick's skills I wouldn't have been able to resume my lifestyle as I have. I'm now two years into my road to recovery. My bowel is 30cms shorter and my daily habits are a bit different, but I am so grateful to be able to do everything physically that I used to.
"What's more, I appreciate the chance to do it so much more than I once did." Now happy and heathy, John remains under Mr Stylianides care only for cancer surveillance.