Pioneering robot revolutionises joint replacements
Spire Little Aston Hospital in Sutton Coldfield is the first private hospital in the Midlands to offer a revolutionary new technology which is set to transform hip and knee replacements.
Mako, the state of the art robotic arm, is a precision tool now used by selected surgeons at the hospital and is offered as an alternative to traditional hip and knee replacements.
The very first Mako robotically assisted knee replacement took place at Spire Little Aston during October and since then, the Hospital has seen increased demand for the robotically assisted procedure as word spreads about its benefits.
The robot has the capability to achieve never before seen levels of accuracy during surgery. This pioneering technology results in improved precision, quicker recovery times and less pain for patients.
Ved Goswami, along with Panayiotis Makrides, are the surgeons behind the first procedure at Spire Little Aston, Ved commented: "The Mako robot has a track record of delivering outstanding results for patients. Over 100,000 procedures have been carried out using the robot across the world and it's a real pleasure to be able to bring this technology to Midlands' patients for the very first time. For me, seeing patients return to the lifestyle they know and love faster than ever is a huge satisfaction".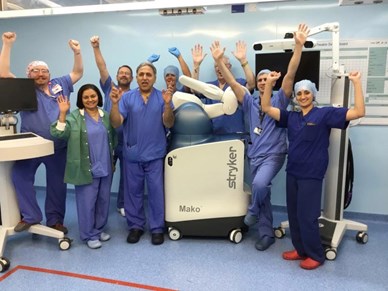 Pictured: Mr Goswami, Mr Makrides and the surgical team after completing the first procedure at Spire Little Aston.
"We're delighted to be able to offer our patients the very latest in hip and knee surgery," said Richard Foulkes, Hospital Director. "We are seeing record levels of interest from across the Midlands from patients seeking the Mako technology over traditional hip and knee replacement techniques. The Mako robot is very much at home here in the hospital and we're over the moon with the initial results our patients are experiencing".
For more information about the Mako robotically assisted surgery contact Spire Little Aston on 0121 580 7119.