Lichfield mum urges people not to ignore tell-tale signs of cancer
When Lauri Bastable noticed a lump on the back of her neck she did what so many other people do… she ignored it!
Now, as the Lichfield mum-of-three looks forward to her 50th birthday following successful treatment for Non-Hodgkin lymphoma, she is appealing not to make the same mistake she did.
"I admit it – I was a fool," said Lauri, an Inpatients Team Leader here at Spire Little Aston Hospital. "I did go to my GP at first, but to be honest, he didn't seem too concerned and told me to come back in six weeks. The lump wasn't giving me any trouble and I just forgot about it!"
But, when five months later, she developed another lump on the side of her head she decided enough was enough and this time her GP sent her for tests which would show she had Non-Hodgkin lymphoma.
Unfortunately, by this time, it was also in her neck, armpit, stomach, chest and groin as well as in her bone marrow.
"As in all forms of cancer, the sooner it is detected, the better the outcomes," she said. "I can't believe I left it so long and I would urge others not to do the same."
After a positive diagnosis by Ear, Nose and Throat Consultant Mr Huw Griffiths, Lauri's treatment was taken over by Consultant Haematologist Dr Shankara Paneesha, first at Heartlands Hospital and then at Spire Little Aston.
What followed was a course of chemotherapy followed by a stem cell transplant which kept her in an isolation unit for a month.
"It was a tough time for me but even more so for my family. Silly as it sounds every time I went to the hospital I took my pink fleece blanket from home to give me comfort and it became quite a talking point," she said.
Dr Paneesha explained: "Because the disease had spread, it was a major job to get rid of it all. However, once we felt the chemotherapy had done its work, we carried out a stem cell transplant to give her body that final push toward full health."
"We collected two million stem cells and Lauri was admitted to receive intensive chemotherapy to destroy any lurking lymphoma cells in her body. When that was done we introduced the stem cells back into Lauri's body. There were no complications and those cells settled in the bone marrow to replace the ones we had destroyed."
"Lauri was a fighter throughout and I had confidence that she would pull through it. Now she can get on with her life and I'm looking forward to her sending me a slice of cake when she celebrates her 50th birthday."  
As for Lauri, who lives in Lichfield with husband David and family, she said she felt she had been on the scariest journey of her whole life.
"It was a roller coaster ride of unbelievable proportions," she said. "I have been in remission for three years now and I cannot tell you how good that feels. I used to think that reaching 50 was a sign of getting old – now I look at it as a privilege!
"I want to tell other sufferers that there is hope and that the roller coaster ride can end happily. Take one day at a time and trust the professionals helping you through it all."
"Most importantly, if you think you have signs of lymphoma – or any other form of cancer - don't put off getting medical advice. It really could save your life."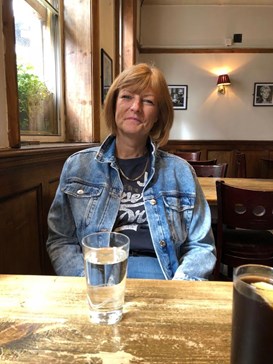 Pictured: Lauri, looking forward to celebrating her 50th birthday!