Laura's foot surgery a recipe for success
As a chef at one of the Midland's top golf clubs Laura Ventrella is lucky if she only spends eight hours a day on her feet!
But 22-year-old Laura is up to the hard work and long hours thanks to tiny titanium implants she has had fitted in the soles of her feet.
"Growing up I had lots of trouble with my feet and standing for long periods was so painful it was almost impossible. I tried all kinds of shoe fittings and various orthotic insoles but nothing seemed to make any difference.
"I had always wanted to be a chef but I knew that would mean long hours on my feet so I began to doubt that I would ever achieve my dream job," she said.
Laura, who lives in Knowle, met with Consultant Podiatrist Mr Stuart Metcalfe at Spire Parkway Hospital in Solihull, near Birmingham West Midlands.
He explained: "What Laura had was pes planus – more commonly known as flat feet or fallen arches – where the arches of the foot collapse to the extent that the entire sole, or a major part of it, comes into contact with the ground.
"This can lead to joints such as the ankle, knee or hip being gradually forced out of alignment by the way a person walks. It is a problem that can progress over the years leading to the possibility of serious orthopaedic problems in later years.
"Much of your lower body is shaped by the way you stand and walk – your feet play a very important part in how your body develops – so, in my opinion, early treatment for something like flat feet is always an advantage."
To realign the foot Mr Metcalfe inserts a stent made of medical titanium between two small bones in the ankle. The operation can be done under local anaesthetic and takes about ten minutes for each foot.
He explained: "It really is all a bit of a balancing act. Once the bones are held in the are in the position they should be then the foot returns to its proper shape and is then better able to support  the ankles, knees and hips. This should result in much less wear and tear on the lower body joints, ligaments and tendons, meaning they function much better for much longer.
"It's a bit like putting the "keystone" back in an arched bridge – once it is properly aligned then everything is held in place.
As for Laura, who is now a sous chef  at Copt Heath Golf Club, the stents have not only meant she can do the job she loves – it also means she can spend her spare time on her second love – shopping!
"Even after a busy day I'm always up for a walk around the shops," she said. "There's nothing like a bit of retail therapy to help you relax after a busy day in the kitchen!"
Q: How quickly could I have a consultation, and how much would it cost? 
A: It depends on the availability of the consultant, but we pride ourselves on getting you fast access to diagnosis and you can often get a consultation within 24/48 hours. Initial consultation fees vary by consultant, but between £175-£250 is a reasonable guide.
Q: I don't have health insurance, can I self-pay? 
A: Yes, you can. Our self-pay team can talk you through this and explain the finance options that are available, should you wish to explore them call 0121 704 5530 or send an enquiry.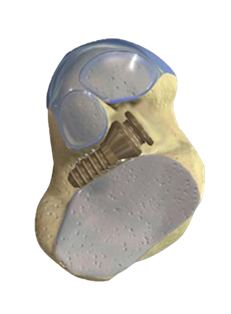 Hyprocure stent for flat feet - the titanium stent fits between two small bones in the ankle.