Button device puts bicep back in shape
Great friends, a few drinks and a party – what could possibly go wrong?
Well, for 52-year-old Jason May, it was when someone decided to start an arm-wrestling competition.
Unfortunately, Jason's impromptu arm-to-arm combat ended when he snapped the tendon that connected his bicep to his lower arm.
"We were all having a laugh and I agreed to have a go at arm wrestling. A couple of days later my arm was quite sore and my bicep looked out of shape when I tensed it, so I thought I'd best get someone to take a look," he said.
Jason, a director of a local recycling company, met with Consultant Orthopaedic Surgeon Gunaratnam Shyamalan (Shyam), who specialises in hand, wrist, elbow and arm treatment, at Spire Parkway Hospital in Solihull, near Birmingham, West Midlands, who told him there was a way to reconnect the tendon and get his arm working normally again.
Mr Shyamalan explained: "I use a device called an Endobutton. The damaged tendon snaps like an elastic band and recoils towards the shoulder.
"You find the end of the tendon in the arm and trim it. You then find the area of bone it pulled out from and drill a hole into the bone.
"The damaged tendon is then stitched and attached to an Endobutton, which is passed through the hole to act as an anchor, which prevents the tendon being pulled out.  
"Finally, you screw the tendon to the bone to create a solid 'belt and braces' fixation.
"This sort of injury typically occurs in middle-aged men who sustain a sudden force to a flexed arm – which is exactly what happened in Jason's case. However, I am very confident that, with good physiotherapy, he will get his arm back to full strength and within months won't even notice the difference."
As for Jason, the pain disappeared after about a week and he is already back to lifting light weights as he looks forward to a 'full recovery'.
He said: "The injury didn't spoil the party and I don't plan to let it spoil anything else. Mr Shyam has done a great job and so it is now up to me to make sure the end result is as good as it can possibly be."
However, he has promised that the next time an arm wrestling contest is suggested, he's going to keep his sleeves buttoned down and his hands in his pockets!
Q: How quickly could I have a consultation, and how much would it cost? 
A: It depends on the availability of the consultant you wanted to see, but we pride ourselves on getting you fast access to diagnosis and you can often get a consultation within 24/48 hours. Initial consultation fees vary by consultant, but around £175 is a reasonable guide.
Q: If I need surgery, how quickly could I have it?
A: We have no waiting lists at Spire Parkway, but again, it depends on the availability of the consultant you wanted, but as a guide, and subject to your pre-operation assessment, between one and two weeks. 
Q: I don't have health insurance, can I self-pay? 
A: Yes, you can. Our self-pay team can talk you through this and explain the finance options that are available, should you wish to explore them. Call 0121 704 5530, or click here to submit an enquiry online.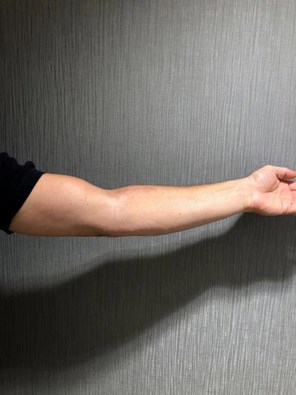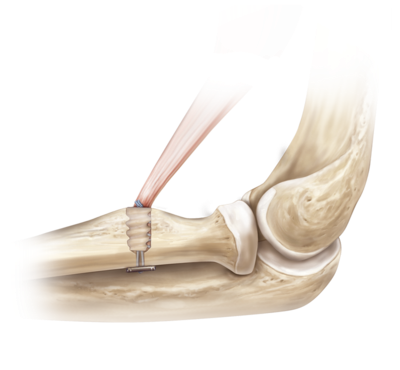 Jason's bicep disconnected from his arm. Pictured (above) is a diagram of how the Endobutton works to reconnect the tendon which connects the bicep to the lower arm.