Dad whose legs were paralysed learns to walk again
A diver whose legs were paralysed after he got the bends in a deep sea diving accident has learned to walk again.
Father-of-two Steve Hallett, 52, lost the use of both legs after he was struck down by the life-threatening decompression sickness moments after surfacing from a 50 metre dive.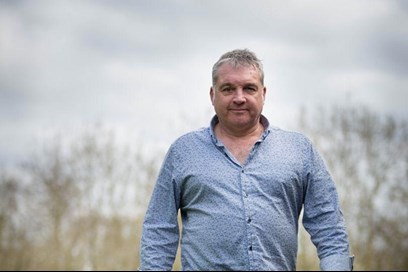 But after intensive physiotherapy he is now able to walk under his own steam though he says he will never dive again.
Steve says after surfacing he gradually lost all feeling below the waist and knew immediately he had the bends - caused by nitrogen getting in the blood stream and forming bubbles - and suffered kidney failure during an emergency dash to hospital.
He says he owes his life both to his friend Tom McCrickerd who rushed him to hospital and also to the Spire Murrayfield Hospital and the North West Emergency Recompression Chamber which is based at the Wirral hospital site.
Steve, who is married to wife Nicola and has two children, daughter Tessa, 23, and stepson Owen, 30, said: "I was on a dive I'd done hundreds of times before. We were down for about 30 or 40 minutes and I reached a depth of about 50 metres but only for a couple of minutes.
"I've been deeper and down longer but soon after I came out of the water I began to feel bad.
"It started with a backache and then I became really unwell. I knew straight away it was decompression sickness and how serious it was.
"Luckily my best friend, Tom McCrickerd, a BSAC national instructor, was there and carries an oxygen kit in his van. He put me straight on it and I was breathing 100 per cent oxygen."
Tom drove Steve, who is originally from Maghull, Merseyside, but now lives in Cumbria, straight to hospital, where a helicopter was waiting to fly him to the recompression chamber on the Wirral.
He was put into the recompression chamber for hyperbaric oxygen therapy – and doctors told him that he would have died without the rapid treatment.
Steve, who runs his own business selling fish and game across the Lake District, had weeks of intensive physiotherapy at the hospital under the care of physiotherapy manager Christopher Buckley and therapist Gary Powell and and is now on the road to recovery.
He said: "I spent time at Arrowe Park Hospital on the Wirral and through sheer willpower I forced my legs and feet to move slightly which was a real lightbulb moment for me.
"I went back into Spire Murrayfield where I began weeks of intensive work with their Physiotherapy Manager, Christopher Buckley, and his excellent team.
"I was doing two sessions a day with them with lots of exercises for walking and balance.
"I'm a stubborn devil and wanted to progress faster than I was capable and by the time I left Spire Murrayfield I was walking with sticks but the help they gave me helped me to make remarkable progress from being bed-ridden, through using a wheelchair and a frame to my own legs again."
Spire Murrayfield physiotherapy manager Christopher Buckley, who helped look after Steve, said he had made "incredible" progress in his two-month stay at the hospital and praised his determination.
Steve was a passionate scuba diver with the British Sub-Aqua Club for 12 years before his brush with death but says he will never dive again.
He added: "I'll never know what caused my accident but as much as I want to I've decided I won't be diving because there's a good chance of my getting decompression sickness again.
"But I can still get out there on the boat and help and be a part of it and without the team at Spire Murrayfield that wouldn't have happened.
"The doctors told me that without the prompt treatment I received in the hyperbaric chamber I wouldn't be here today and without their fantastic physiotherapy I might never have walked again."