How to stay active and look after your hips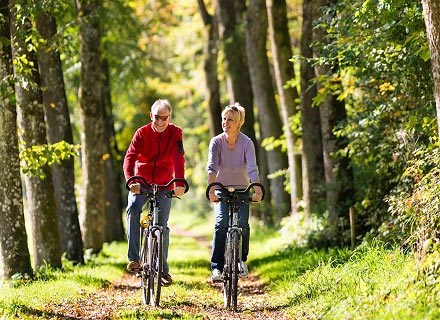 Enjoying an active lifestyle as you get older offers a range of benefits, from boosting heart health to supporting mental wellbeing. However, it can also increase the risk of joint injury, if you push things too hard. Here, Consultant Orthopaedic Surgeon, Mr Nigel Donnachie, a specialist in conditions of the hip and knee here at Spire Murrayfield Hospital, explains how you can avoid debilitating hip injuries, while still indulging your passion for sport and exercise.
Hip replacement surgery numbers have soared in the last decade, with tens of thousands of people in the United Kingdom undergoing the procedure every year. In large part this is down to the ageing population. However, increasingly, we are seeing people under the age of 60 who require hip replacement. While advancements in surgical technique and joint prosthetics mean hip replacements are more successful and enduring than ever, it may not always be the first line of treatment to consider. There are things you can do to delay, or even avoid the need to have a hip replacement.
I frequently see patients who expect to maintain the same high impact exercise regime in their forties and fifties as they did in their twenties and thirties. Unfortunately, for some individuals, this can have a detrimental effect on the body.
As we age, the muscles, cartilage, ligaments and bones supporting our joints begin to change and degenerate. This can cause a range of painful conditions that are exacerbated by over exertion. These conditions include bursitis (an inflammation of the fluid-filled sacs that cushion your joints), labral tears (tears to the ring of cartilage surrounding the hip socket), tendonitis, and even stress fractures. Furthermore, osteoarthritis caused by damage to the cartilage around your hip joints can begin to develop in your forties and fifties, even though most people consider this to be an 'older person's' condition.
The good news is that you don't have to give up sports and exercise completely to limit your risk of suffering hip pain. You may simply have to modify your routine. No matter what your age, there is likely to be an activity to suit you, which will help to keep you fit, healthy and happy, without putting strain on your joints.
For example, it might be time to retire your running shoes and consider activities such as cycling, swimming, rowing or brisk walking. All of these activities are excellent ways to keep your fitness levels up, allowing you to enjoy a good cardiovascular workout, without the jarring impact of running.
For those who still want to run, a pair of good quality running trainers is a must. It's also advisable to invest in some orthotic insoles, to cushion the feet and absorb impact. Asking an expert, be that a sports coach, physiotherapist or personal trainer, to assess your running style is also helpful, as it will help to ensure that you're doing it right. Exercising on a running machine at the gym also offers a good compromise as it puts less stress on the body than running outdoors.
Incorporating exercise and sport into your lifestyle is an excellent way to stay healthy and agile. But it's all about doing the right thing at the right time and the nature and intensity of your personal exercise routine will be determined by a number of different factors (such as fitness level, pre-existing health conditions and previous injuries). If you are unsure about the type or level of exercise you should be undertaking, ask your doctor for advice.
In essence, it's all about adjustment and modification, rather than giving up the activities you love. And don't forget, no matter what type of exercise you include in your routine, it is important to build in time for stretching and cooling down. You should also ensure that you have two or three recovery days per week.
If you are experiencing hip pain, it is important to see a specialist as soon as possible, so that we can diagnose the cause of your symptoms and treat them appropriately. At Spire Murrayfield Hospital, Wirral we offer cutting edge X-ray and MRI scanning technology. This helps us to determine the condition of your hip quickly and accurately and establish a personalised treatment plan. The range of treatments we offer includes anti-inflammatory injections, extracorporeal shockwave therapy (where soundwaves are passed through the skin to the injured part of the hip) and hip replacement surgery. We also have a team of expert sports physiotherapists on hand to provide personal treatment plans.
At Spire Murrayfield Hospital, Wirral, our consultants have wide experience in some of the latest techniques and innovations and our inclusive prices, with access to 0% finance options, make the process easy and more affordable.
For further information on our broad range of procedures and to find out more about our team of expert consultants, call our specialist advisors on 0151 929 5408.