The ROSA® knee robot – now helping surgeons at Spire Murrayfield Hospital, Wirral
ROSA® (RObotic Surgical Assistant) is a new cutting-edge robotic technology helping to support your surgeon at Spire Murrayfield Hospital, Wirral to target better fit and function than ever before.
Knee replacement surgery involves removing damaged parts of a knee joint and replacing them with an artificial joint. As every patient's anatomy is unique, the exact positioning of the implant varies from person-to-person.
ROSA® Knee uses 3D data collected about an individual patient's knee, to inform the orthopaedic surgeon of many details related to the patient's individual anatomy. By using this data, the surgeon can plan and perform personalised bone cuts and implant fit to better suit an individual patient's needs. The robot does not perform the surgery, but assists surgeons with live data and guidance throughout the procedure, only moving if the surgeon tells it to.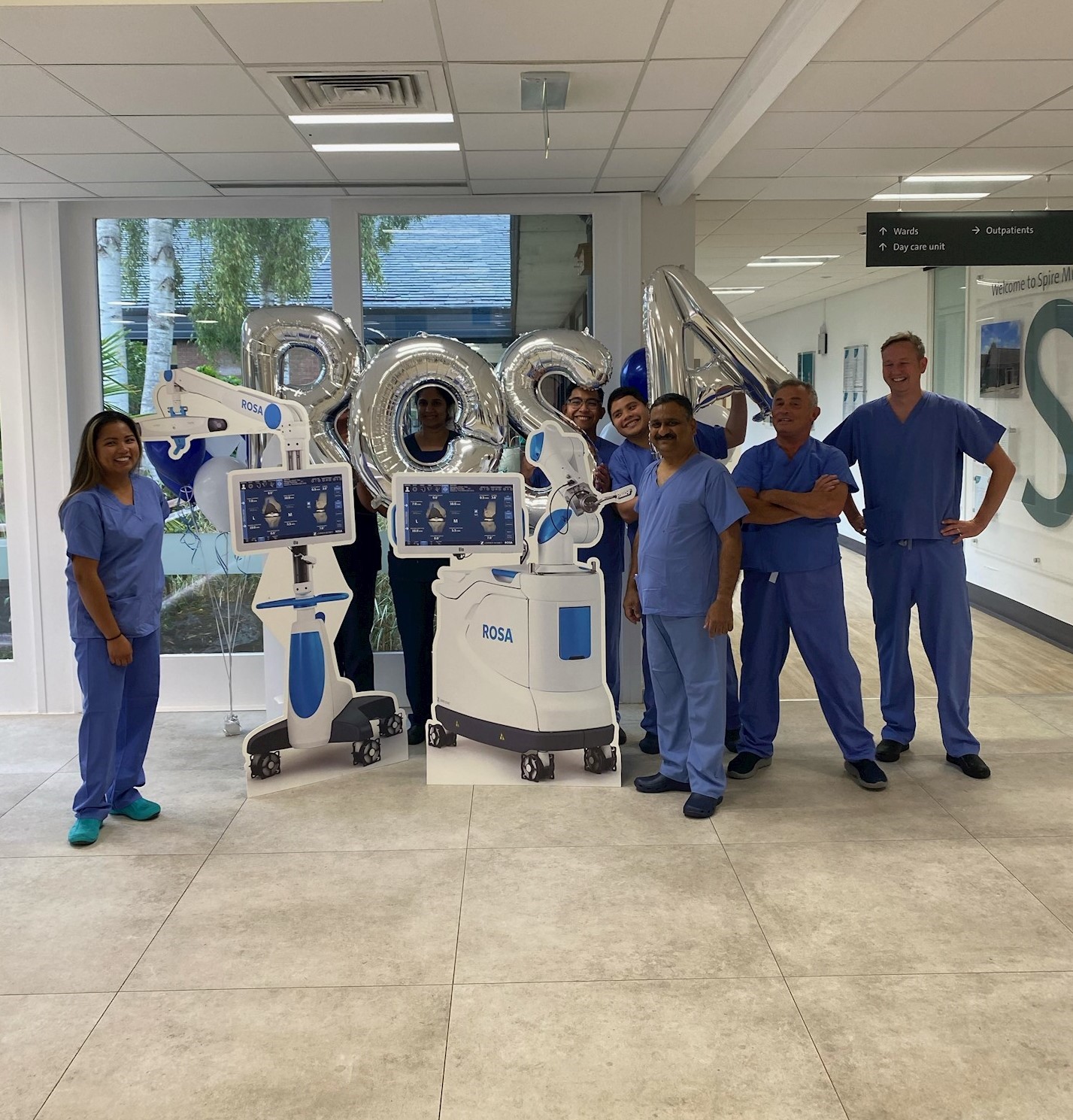 ROSA® Knee surgery team at Spire Murrayfield Hospital, Wirral
Sean Crooks, Hospital Director said: "At Spire Wirral, we are proud to be able to provide robotic assisted knee replacement surgery to our orthopaedic patients. ROSA's cutting-edge technology creates a bespoke surgical plan in order to deliver the best clinical outcomes to our patients, and will enable a speedy return to a healthy and active lifestyle. Our investment in ROSA really emphasises our commitment to delivering outstanding personalised care, and our ongoing aim to develop our services at the hospital".
To find out more about ROSA® Knee replacement surgery, please call us on 0151 648 7000 or email info@spirewirral.com.