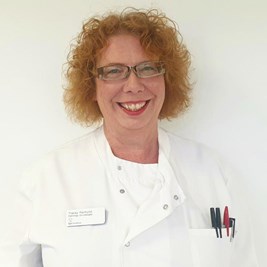 Hello Tracey! How long have you worked at Spire Murrayfield, Wirral and what is your previous background?
I have worked at Spire Murrayfield for six years now. I started on the Bank as a Healthcare Assistant (HCA) and then, within a few months, had a full time contract. I worked on the ward and The Day Case Unit.
During my six years I have worked in a few departments as, due to an injury some two years ago, I was unable to continue long hours on the ward.
I was worried I would have to leave nursing, but I was given wonderful support from my colleagues and management to find a role that I could do during my recovery and then return to my nursing duties. I worked within the outpatients dept, pre-op team and medical records. I feel this has been invaluable in working with other departments and understanding the impact all of our roles have on each other to ensure a smooth and happy experience for staff and our patients.
My background before I came to Murrayfield:
I was in the Army in the Royal Engineers and left to have my children. I then became a childminder while my children were small and growing up. I looked after a friends little boy who worked at Clatterbridge Psychiatric Unit and I joined the bank there, so was working in Mental Health from 1998 working at Clatterbridge PICU, then St Catherine's Hospital in Secure EMI. I then went to work for a Private Mental Health Company working in Drugs and Alcohol Rehab Secure Units etc, which was very interesting and rewarding. I also worked for The Salvation Army in Liverpool at Ann Fowler house women's refuge and homeless shelter for a time – so have quite varied work experience.
What made you want to be a pathology co-ordinator in private healthcare?
To be honest I have always loved science, especially chemistry, and find all parts of pathology fascinating.
The thing I like most is that it is another part of our patient's journey with us. So I get to look after them when they come in for a procedure, they may have blood or samples taken. Also I have learnt so much and understand the tests more now and why and how they are done, I understand the results…which I didn't have a clue before.
What makes you proud to work at Spire Murrayfield, Wirral?
Murrayfield has always had a wonderful reputation on the Wirral. My mother was nursed here when I was little so I have always thought wow I would love to work there when I grow up...and I did!
Everyone is friendly here, we all know each other, we all mix together, and we all help one another to deliver the best care and experience to all our patients. I have been supported in every direction I have wanted to explore within Spire Murrayfield and was so happy to have been given the opportunity to apply for this role and have a job I never dreamed I could have. I hope to extend my knowledge to benefit not only our patients, but my colleagues too, in providing the information they need in order to ensure the best care to our patients is met.
What does "Hello my name is…" mean to you?
I think it is a wonderful way of showing everyone the people who work here at Murrayfield from all departments, so when you come here you can recognise us as well. It is always daunting coming into hospital and if things can be made more personal to the individual I think that helps enormously.
Also I hope it shows people the wealth of talent, knowledge and dedication in everyone here at Murrayfield and knowing they are in safe and happy hands.
And finally, what's your hidden talent?
My hidden talent is that I won two Gold Medals in the FMA British Kickboxing Championships in 2006 and my nick name is 'The Ginger Ninja!'