Spire Murrayfield Hospital, Wirral becomes Tranmere Rovers FCs official medical partner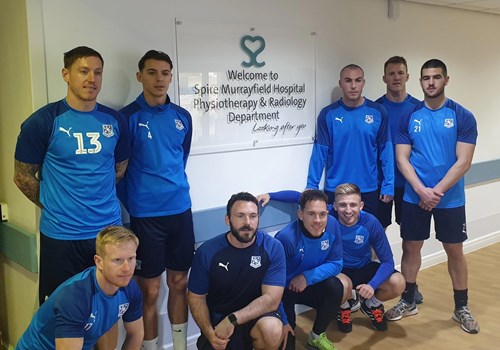 Spire Murrayfield Hospital, Wirral has announced that it has become Tranmere Rovers Football Club's official medical partner.
Tranmere Rovers players will have access to Spire Murrayfield's diagnostic sports medicine facilities in their physiotherapy department, which will help Tranmere Rovers players significantly when it comes to preventing injuries and when recovering from injury. Spire Murrayfield Hospital, Wirral is home to some of the region's leading sports medicine and orthopaedic consultants and physiotherapists.
Under the new agreement, Spire Murrayfield is supporting the renovation of Tranmere Rovers Physiotherapy Suite at Prenton Park. This new improved facility will enable Tranmere Rovers to provide improved levels of physiotherapy care to their players on a day-to-day basis while they are in training.
Spire Murrayfield's Hospital Director, Philip Oehley said that the hospital's decision to become Tranmere Rovers' medical partner is part of its wider commitment to supporting the Wirral community. "We are delighted to be supporting the Tranmere Rovers squad," Mr Oehley said. "At Spire, we are committed to providing the highest quality care in sports medicine to the local community – whether professional athletes or weekend sports persons.
"We are proud to be extending this service to Wirral's own football team. By offering access to our services, we will be able to create individual management plans to the TRFC squad, ensuring the players are in peak condition for the remainder of the season."
Tranmere Rovers Manager, Micky Mellon is pleased that Spire Murrayfield will be working with the Club, and he says that it will benefit the medical department. Micky said: "It is fantastic to have Spire Murrayfield supporting our medical team. The partnership will allow us to take the department to another level."
Tranmere Rovers Chairman, Mark Palios added: "We're delighted to have Spire Murrayfield as our medical partner. Their support will be a tremendous help in ensuring we keep players on the pitch. It's also another step forward in the Club's efforts to work with Wirral-based businesses. We look forward to further developing the partnership over the coming years."