Spire Murrayfield Hospital, Wirral shortlisted for Wirral Life Awards
Spire Murrayfield Hospital, Wirral and its Hospital Director Philip Oehley have been shortlisted in the Wirral Life Awards.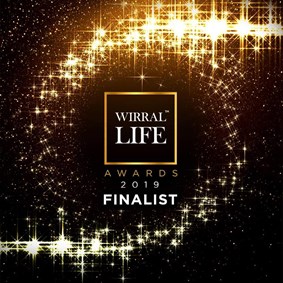 Wirral Life magazine is Wirral's leading lifestyle magazine and has been championing Wirral businesses and individuals since 2016. The prestigious Wirral Life Awards provide a platform to celebrate inspirational people and businesses who shape the local area. This year's Awards have received more than 400 entries.
Spire Murrayfield Hospital, Wirral has been shortlisted for Business of the Year while Philip Oehley has been shortlisted for Businessman of the Year.
Both nominations recognise the series of improvements which have been implemented at Spire Murrayfield, which have strengthened the business and improved the level of service and healthcare provided by the hospital to the people of Wirral and the wider region.
Mr Oehley, Hospital Director at Spire Murrayfield Hospital, Wirral said: "The whole team is delighted to be shortlisted for these awards, which are recognition of the steps we have taken to improve the service offered here at Spire Murrayfield, Wirral.
"Our ultimate goal is to be recognised as the private health care provider of choice in Wirral, North Wales, Cheshire and the Liverpool region. In order to achieve this, we have implemented a programme of investment to deliver a range of improvements to the strength of our clinical team, facilities and services we offer."
Under Philip Oehley's leadership, the Spire Murrayfield team has further strengthened its orthopaedic, pain management, ophthalmic, breast, plastics, ENT, gastroenterology and endocrinology teams. The hospital currently offers more than 300 surgical treatments using the latest and most advanced technologies. Strategic investments have been made and continue to be made in the facility including state-of-the-art outpatient ophthalmology diagnostic equipment, the refurbishment of the bedrooms, operating theatres and outpatients' suite. Improvements have also been made to the restaurant and catering facilities.
Spire Murrayfield is also investing in its people. The hospital is recruiting new consultants and investing in training and development of existing staff. Steps have also been taken to make Spire Murrayfield's services increasingly accessible to more people in Wirral. Patients can be seen by a leading consultant within 24 hours and the hospital is now offering an interest free finance programme to assist patients in paying for their treatment.
Mr Oehley said: "Spire Murrayfield will continue to strive and invest in our hospital to ensure it provides the best possible care and outcomes to our local and wider community and will continue to do so for many years to come."
Spire Murrayfield Hospital, Wirral and Mr Oehley will learn whether they have been successful at the awards ceremony, which will be held on 8 November at Thornton Manor. More than 700 guests will attend the event.