Heart surgery saves patient's life following heart failure
This UK National Heart Month, the British Heart Foundation is once again raising awareness about heart disease. Atrial Fibrillation (AF) is currently the most common type of irregular heart rhythm, known to affect about 1.3 million in the UK. It occurs when the upper chambers of the heart – known as the atria –  produce uncoordinated electrical messages. This makes them contract randomly and twitch, causing an irregular, or sometimes fast, heartbeat.
Adrian Bennett, 69, from Worsley in Manchester, has AF and been under the care of the cardiology team at Spire Manchester Hospital for more than a year.  
Adrian's story:
He first started to feel unwell in Autumn 2018, up until this point he had no known heart issues. He was suffering with breathlessness, had gained a lot of weight around his middle, and his legs and ankles were puffy. Adrian had his initial treatment on the NHS, after being rushed to hospital following advice from his son, who is a dentist, to seek urgent medical attention, where he was diagnosed with pneumonia, then heart failure and spent 10 days in hospital.
Adrian said: "After being discharged from hospital, I choose to use my private health insurance and arranged a consultation with Consultant Cardiologist and Electrophysiologist, Dr David Fox at Spire Manchester Hospital, who was highly recommended. I have great affection for the hospital, consultants and team, as I've had two knee replacement surgeries at the hospital in the past, and couldn't praise the care enough."
Dr Fox diagnosed Adrian with persistent AF (which meant he was consistently in AF) in February last year. He initially treated the condition with drugs and was able to restore Adrian's normal sinus rhythm with medication. He was doing well until the October, when he began to feel unwell again, and went downhill so quickly that he couldn't walk more than 10 yards without gasping for air.
"When Adrian returned to see me, he was quite poorly and had AF related heart failure. As the condition had returned, it was necessary to perform ablation therapy," Dr Fox explained.
"The surgery was a great success and restored his normal sinus rhythm, and Adrian's heart function improved markedly after the normal rhythm was restored."
Ablation is where heat (radio frequency) is used to destroy tissue. Catheters are inserted into the heart via veins in the groin. Your cardiologist identifies the area of the inner surface of the heart generating abnormal ­electrical activity and ablation is used to form scar tissue that no longer conducts electricity.
Adrian added: "Once again, the care I received at Spire Manchester Hospital was on another level - first class - and all the cardiology team were very helpful and supportive. I cannot thank Dr Fox, Jane, Cardiac Lead Nurse, and the nursing team and support staff enough for looking after me and getting me back to my best!
"At home we have three acres of land and my ablation therapy has allowed me to get back outdoors, spending time with my wife and family, gardening and enjoying nature, which I love."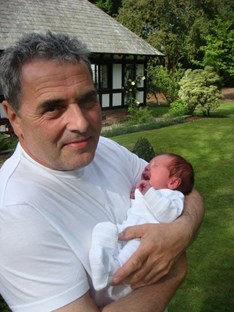 Adrian and his granddaughter, Ada 
Dr Fox commented: "Adrian is doing really well, however it's important that he has regular check-ups with us as AF can return, especially if like in Adrian's case, it was in the persistent phase at diagnosis."
One in five men over 65 are at risk from AF. The condition increases with age and common triggers include high blood pressure (hypertension), ischaemic heart disease (coronary artery disease), valvular heart disease, an overactive thyroid and too much alcohol.
Adrian concluded: "I wasn't aware of the signs of AF until I was diagnosed, and I would urge anyone experiencing palpitations, pain and pressure in the chest, excess fluid and shortness of breath to see their GP or a cardiologist."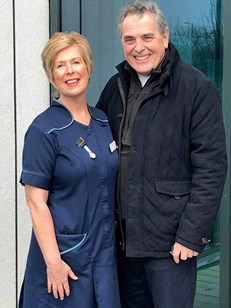 Jane Caton, Lead Cardiac Nurse and Adrian
Find out more about Spire Manchester's cardiology service.